Iceland's Grimsvotn volcano starts new eruption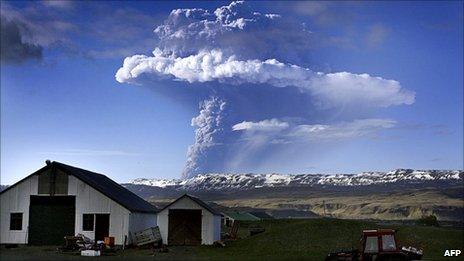 Iceland's most active volcano, Grimsvotn, has started erupting, scientists say.
The volcano, which lies under the Vatnajokull glacier in south-east Iceland, last erupted in 2004.
In 2010, plumes of ash from Iceland's Eyjafjallajokull volcano caused weeks of air travel chaos across Europe.
Officials say the latest eruption is unlikely to cause similar problems, although a flight ban has been imposed around the area.
Volcanic eruptions are common in Iceland, which lies along the Mid-Atlantic Ridge that divides the Eurasian and North American continental plates.
Icelandic Meteorological Office geologist Hjorleifur Sveinbjornsson told Reuters that Grimsvotn had thrown a plume of white smoke about 15km (nine miles) into the air.
"It can be a big eruption, but it is unlikely to be like last year," he added.
Iceland's Isavia airport authority said a flight ban of 120 nautical miles had been imposed around the area.
"We close the area until we know better how the ash is going to work," she spokeswoman Hjordis Gudmundsdottir.
Domestic airline Icelandair said no traffic had been affected.
"We do not expect the Grimsvotn eruption to affect air traffic to and from the country in any way," said communications director Gudjon Arngrimsson.
Last year's outpouring of ash from Eyjafjallajokull led to the largest closure of European airspace since World War II.
About 10 million travellers were affected and some questioned whether the shutdown was an over-reaction.
However, a scientific study published last month said the safety concerns had been well founded.
Researchers from the University of Copenhagen and the University of Iceland said ash particles from the early part of the Eyjafjallajokull eruption were especially abrasive, posing a possible threat to aircraft.
Related Internet Links
The BBC is not responsible for the content of external sites.