New statue of Pope John Paul II sparks anger in Rome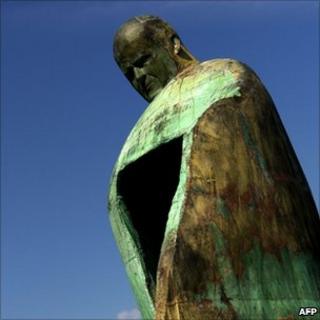 The installation of a vast bronze statue of the late Pope John Paul II at Rome's main railway station has provoked a storm of controversy.
The Vatican's own newspaper has said the figure depicted in the 5m (16ft) high creation looks nothing like him.
Passersby have even compared the statue's bulbous head to Italy's former fascist leader, Benito Mussolini.
The Italian sculptor, Oliviero Rainaldi, said he was "disappointed" his aims had not been understood.
"I wasn't trying to achieve a similarity, but a work that was able to express, through the position of the head and the body, and the fall of the cloak, the Pope's openness towards the world," he told La Repubblica.
'Distant resemblance'
In the statue, Pope John Paul is depicted wearing a large cloak which falls to the ground on three sides, leaving a gaping hole at the front.
"Homeless people will sleep in there in the winter - the welcoming sense is guaranteed," one protester said.
In the Holy See's newspaper, L'Osservatore Romano, one commentator wrote: "His face... bears only a distant resemblance to that of the pope. Overall, the result does not seem to reach its intention".
The statue of the late pope - who was beatified on 1 May in a ceremony which drew more than one million people to the capital - was paid for by a foundation, at no cost to the city.
It was erected in time to mark what would have been John Paul's 91st birthday on 18 May.
Rome's mayor, Gianni Alemanno, told the Associated Press that he would consider public opinion on the statue.
"There's an ancient saying: 'Vox populi, vox dei' [Latin for 'Voice of the people, voice of God']," Mr Alemanno said.
"And, from this point of view, we cannot help but take into consideration the opinion of the public."