Obama to give address in Dublin's College Green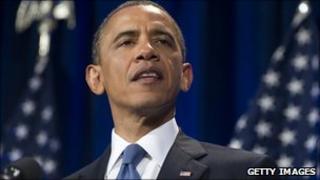 More details have been released about the visit of US President Barack Obama to the Republic of Ireland next week.
Mr Obama will give an address at College Green in Dublin late on Monday afternoon.
He will be accompanied on stage by his wife Michelle and Irish Prime Minister Enda Kenny.
Earlier in the day he will visit the village of Moneygall in County Offaly, the site of his ancestral homestead.
Mr Obama will start his trip by meeting the Irish President Mary McAleese in Dublin on Monday morning, before visiting Mr Kenny at the Irish government's guest residence.
The event at College Green will be free of charge and tickets will not be required. Security gates are expected to open at 1400 BST.
There will be a musical concert prior to Mr Obama's speech.
Traffic restrictions will be in place in Dublin city centre and there will be limited parking spaces.
The Irish broadcaster RTE reports that hundreds of people spent most of Thursday queuing in Moneygall for tickets to see Mr Obama.
Access will only be available to the residents of the village and the nearby area on Monday during the event.
Mr Obama is scheduled to leave Ireland on Tuesday morning to begin a state visit to the UK.