Ukraine weather forecaster's remarks spark storm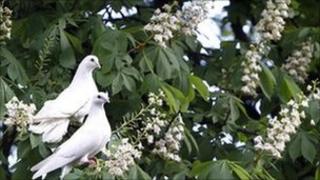 Ukraine's national broadcaster has suspended its live weather broadcasts after a forecaster commented on the country's gloomy political climate.
The National Meteorological Centre's chief meteorologist praised the beauty of spring before berating "disorder, lawlessness and injustice" in Ukraine.
Lyudmila Savchenko was broadcasting live on National Radio when she made the disparaging remarks.
Forecasts will be now pre-recorded and edited before being aired.
"You cannot remain indifferent to the beauty, complete with the delicate scents of lilacs and lilies of the valley, the melodic trills of birds," said Ms Savchenko in last week's fatal forecast.
'Censorship'
"Sometimes it seems like the nature is compensation for the disorder, lawlessness and injustice in our country."
This is not the first time Ukraine's media has been rebuked for interfering in politics.
In 2004, Ukrainian National TV fired a sign-language interpreter for telling viewers that the authorities were lying.
Ms Savchenko is quoted by the popular Ukrainian Pravda as saying she was well aware of the consequences of her critical statements.
"I did what I had to," she said. "I said what I believed was true and I still believe it. I knew I would never go on air again."
Ukrainian National Radio has confirmed that it has cancelled its live forecasts.
The station's deputy managing director, Roman Tchaikovsky, said the issues raised by the incident were "not noteworthy".
Ukraine's Meteorological Centre has not commented on the situation, and it is unclear whether any action has been taken against Ms Savchenko, who has not been heard on-air since the episode.
Ukraine's opposition has said Ms Savchenko should be neither suspended nor sacked for her comments.
The Kiev-based based Media Institute has told the BBC that while the forecaster's remarks had little to do with the weather, the national broadcaster's decision to cancel live forecasts was ridiculous.
"Unfortunately, this reaction confirms the presence of censorship and other pressures in our country, and self-censorship has already become the norm for editors, especially in the state media," said the body's head, Victoria Syumar.
As with any other country, Ukraine's weather forecasts are some of the most popular slots on radio.
The hope is that future forecasts will be recorded, checked and broadcast quickly, before the weather - in the meteorological sense of the word - changes.