Belgium without a government: New mediator urges deal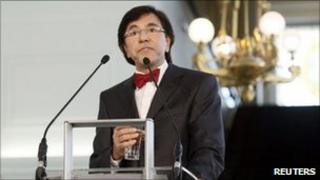 The latest politician entrusted with brokering a new government for Belgium has urged his fellow citizens to see it as their "last chance".
Elio Di Rupo, leader of the French-speaking Socialists, accepted the country had to decentralise further to meet Dutch-speakers' aspirations.
Belgium has been without an elected government for more than a year.
A caretaker cabinet has been in office since the last government collapsed and June elections produced a stalemate.
Mr Di Rupo, who is of Italian extraction, was asked this week by King Albert II to attempt to form a new government, and to lead it.
One of his chief challenges is to win over the Dutch-speaking separatist party, New Flemish Alliance (NVA), which emerged as the largest single grouping after the election.
In his opening speech as broker on Tuesday, Mr Di Rupo called for "a new balance with greater autonomy for the regions".
Despite the political deadlock, Belgium's economy grew at 1.6% last year, allowing its budget deficit to fall to under 5%.
The country has also been praised for its handling of the EU's rotating presidency in 2010.