Strauss-Kahn: Spotlight on France's 'macho' culture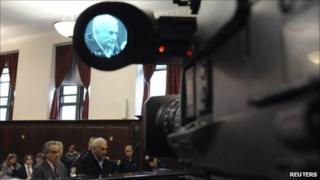 In France, it's long been accepted that the media do not intrude into the private lives of public figures.
French privacy laws are among the strictest in the world, and the French have long prided themselves on not prying into what politicians get up to in the bedroom - unlike the British and the Americans.
Until now, most French people would have found it distasteful for journalists to report on politicians' extra-marital affairs.
For now, relatively few French commentators have been asking whether that will change in the wake of the arrest of Dominique Strauss-Kahn, the man nicknamed the Great Seducer.
But the French media have been reporting comment in American and British newspapers on whether Mr Strauss-Kahn's behaviour might have been different if France didn't have a convention that politicians' sex lives are off-limits.
Ladies' man
Until his arrest, there had been very little reporting of Mr Strauss-Kahn's alleged encounters with women, despite the fact he was tipped as the favourite to be France's next president.
If anything, rather than being seen as unacceptable behaviour, his reputation as a ladies' man was viewed as an asset in France's macho political culture.
He still has many supporters in the Socialist Party - and some are outraged that he has been shown on television in handcuffs, something that they say would have been illegal in France at this stage of the legal proceedings.
The Socialist leader, Martine Aubry, has criticised French media for failing to observe French law and broadcasting the images.
The former president, Francois Mitterrand, had an illegitimate daughter by his mistress, but the French media helped to keep this secret for years.
When it finally became public knowledge, the scandal was not about the relationship, but the fact that the president's daughter Mazarine and her mother were being housed at the taxpayer's expense and guarded by police.
"When that came out, many journalists were convinced that things would change," Pascal Virot, deputy editor of the left-leaning newspaper Liberation, told the BBC.
"But in the event, nothing did change. I don't know if things will change now because of the DSK case."
A strange omerta?
But an article in Liberation says France is now experiencing its first "Anglo-Saxon" sex scandal, and has brutally entered a zone of public debate which until now - because of cultural exception, "Latin" identity or democratic weakness - was "confined to rumours and gossip among a select circle of insiders".
An article in Le Monde entitled "the strange media omerta over the DSK case" takes up a similar theme.
Written by a journalist who co-authored a book about the sexual affairs of French politicians, it argues that French democracy needs a dose of "common decency".
The writer, Christophe Deloire, also says he has been surprised that the French media have shown little interest in a chapter of his book Sexus Politicus devoted to Mr Strauss-Kahn's alleged philandering.
"The scenes recounted were not limited to simple salon seduction," he says. "This chapter brought our publisher and ourselves under intense pressure, in view of the sensitive nature of the information."
The 2006 book broke a taboo in France and pointed out that many politicians had been linked with women journalists.
That, the authors argued, led to a media culture in which tough questions were less likely to be asked.
Breaking down taboos
Mr Strauss-Kahn himself is married to a former journalist and television presenter, Anne Sinclair.
But if the media were to take more interest in politicians' private affairs, they would risk breaching the laws on privacy.
If information is not in the public interest and it relates to someone's private life, it can only be revealed if it the person consents.
But lawyers say that courts are taking a different approach since Nicolas Sarkozy was elected president in 2007.
There was a lot of coverage of Mr Sarkozy's relationship with Carla Bruni and their marriage, some with the president's consent.
Since then, courts have been reluctant to award large amounts of money in damages when stories relate to public figures who have exposed their private lives.
That could indicate that even in France, the taboos may be starting to break down.