Air France Rio crash: Black box recorder data 'intact'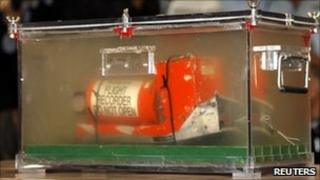 Flight recordings from an Air France jet that crashed into the Atlantic Ocean in 2009 have been preserved and are readable, French investigators have said.
They said the material from the voice and data recorders, retrieved earlier this month off the Brazilian coast, will now be analysed.
The readings include the last two hours of the cockpit voice recordings.
All 228 people on board were killed in the disaster.
"Following operations to open, extract, clean and dry the memory cards from the flight recorders, BEA safety investigators were able to download the data over the weekend," the BEA air investigation agency said in a statement.
"These downloads gathered all of the data from the flight data recorder, as well as the whole recording of the last two hours of the flight from the cockpit voice recorder."
Summer report
Any information gleaned from the cockpit voice and flight data recorders will take months to process, investigators have said.
The report into the cause of the crash itself will not be ready before early 2012, although an interim report will be published in the summer, the BEA said on Monday.
Flight AF 447 went down on 1 June 2009 after running into an intense high-altitude thunderstorm, four hours into a flight from Rio de Janeiro in Brazil to Paris.
Those on board came from more than 30 countries, though most were French, Brazilian or German.
The wreckage of the plane was discovered after a long search of 10,000 sq km (3,860 sq miles) of sea floor.