Vatican instructs more priests to say Mass in Latin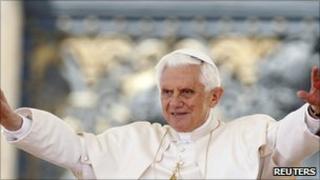 The Vatican has instructed priests to allow the celebration of Mass in Latin if traditional congregations demand it.
The so-called Tridentine Mass remains rare, despite a 2007 papal decree ordering its wider use for Catholics uncomfortable with modern rites.
The 'old rite' was abandoned in most churches more than 40 years ago, in favour of services in local languages.
The move is part of an effort to bridge differences between traditionalists and progressives in the Church.
Traditionalists object to the fact that only a third of dioceses worldwide have implemented the 2007 decree, which is partly due to a lack of priests trained in Latin, correspondents say.
The new Vatican document instructs bishops to make more space and time available for groups wishing to celebrate the old Latin Mass, adding that both the old and the modern rites are equally valid.
It also calls for Latin instruction for priests wishing to celebrate it. But it admits that with ever fewer priests having a working knowledge of Latin, this is going to be difficult in some parts of the world.
"There are going to be a lot of happy traditionalists," Reverend John Zuhlsdorf, a commentator and columnist told the AP news agency.
Others have criticised the directive, suggesting it could create a rupture in the Church.
What Pope Benedict is now trying to do is to heal the rift between those Catholics who regard the attempted restoration of the old Latin rite as a step backwards, and the traditionalists who are nostalgic for the old Church liturgy, says the BBC's David Willey in Rome.
A serious breach which occurred in the 1970s when a traditionalist French Bishop was excommunicated for rejecting the reforms of the second Vatican council and insisting on the continuation of the Latin Mass.