Alarm over Rome bus driver who used phones at wheel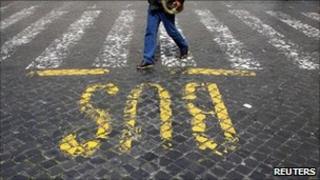 The governor of the region around Rome has asked for action over a bus driver filmed using two phones at the wheel and steering with his elbows.
Video of the driver, who was ferrying passengers on a bus to the city's Ciampino airport, was posted on the website of La Repubblica newspaper.
Using even one mobile phone while driving is illegal in Italy.
Lazio governor Renata Polverini condemned the driver's actions as "unacceptable and reckless".
"People who are responsible for the safety of others must not behave like that," she told reporters, amid calls to have him sacked.
She said she had immediately asked for the regional bus company Cotral to take action.