Eurovision 2011 in numbers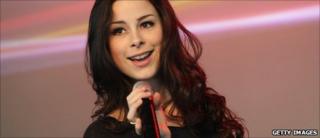 On Saturday, 25 countries will compete in the final of the 56th Eurovision Song Contest. Here are 10 significant numbers that sum up the 2011 event.
Two - Number of times a winning singer has returned to defend their title on home ground. This year it's Germany's reigning champion Lena, pictured above, singing Taken By A Stranger.
Six - friends of Iceland's Sigurjon "Sjonny" Brink have stepped in after the singer-songwriter died in January, having already submitted his song Coming Home.
43 - no, 42 - no, 43 again - Number of participating countries. Slovakia planned to drop out, worried about the expense of entering. But having missed the withdrawal deadline, it dispatched sisters Daniela and Veronika Nizlova - performing as Twiins - to Duesseldorf to sing I'm Still Alive.
Three - Singers in 3JS of the Netherlands, named Jan, Jaap and Jaap. Get it? And when there are three of you, you are never alone. Perhaps hence the title of their song, Never Alone. Sadly, 3JS didn't make it to finals. But were not alone in failing to do so.
Two - Pairs of identical twins in the 2011 contest. The aforementioned Twiins, of Slovakia, didn't make it past the semis, but Ireland's Jedward - John and Edward Grimes - will perform their song Lipstick on Saturday.
13 years - Length of Italy's absence from the contest. But now it's back, with Raphael Gualazzi singing Madness of Love.
Big Five - Italy's return rounds up the number of guaranteed finalists from four to five. The others are Spain, Germany, the UK and France, in recognition of the money they pay towards the cost of staging the event.
20,000 - Size of bet in euros, placed by an Austrian man in Vienna, wagering that his country would reach the finals. On Thursday, Austria did indeed make it through and the bookmaker, William Hill, paid out 28,000 euros (£25,000). "We are used to accepting big bets from our UK-based punters but a 20,000 euros bet on the Eurovision is all but unheard of," a spokesman said.
66,000 - Spectators inside Duesseldorf's Esprit Arena watching the contest in person, and an estimated global TV audience of some 100 million people - including Australia, on almost exactly the opposite side of the world.
12 million - Number of Russian expats living in Eurovision countries. They helped Dima Bilan to victory in 2008. This year, this diaspora could be valuable supporters of Russia's back-flipping, day-glow-trainer-wearing Alexei Vorobyov, with the song Get You, written by RedOne, Lady Gaga's Moroccan-born songwriter.