Spain earthquake: Thousands flee Lorca homes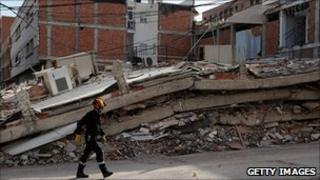 Thousands of people have fled the Spanish town of Lorca following an earthquake that left nine people dead and damaged hundreds of buildings.
Many residents have gone to stay with friends and family in other areas, some because their homes are unsafe and others fear aftershocks.
Troops and emergency workers have put up hundreds of tents for about 3,000 homeless people still in the town.
Funerals for some of the victims are due to be held on Friday.
The magnitude-5.2 quake struck the southern town on Wednesday evening, about two hours after a quake measuring 4.4.
The BBC's Sarah Rainsford in Lorca says almost every building in the town has been damaged.
On Thursday some residents were briefly allowed back into their homes to salvage what belongings they could from the rubble. Spanish TV pictures showed many were in tears.
Inspection teams are going house to house assessing the damage before declaring which buildings are safe to return to.
Our correspondent says some residents are starting to question the quality of the building work in their homes. Initial feelings of fear and panic are giving way to a mood of deep frustration, she adds.
Cars crushed
Shops, restaurants and schools have been closed and a steady stream of cars was leaving the town in Murcia region.
Bulldozers have been clearing streets of rubble and crushed cars. Many ancient buildings were among those badly damaged.
Many of those residents left behind are immigrant labourers who have nowhere else to go.
Unemployed Ecuadorean farm worker Luis Vazquez spent the first night camping in a supermarket car park with his wife, daughter and four other families.
He said his apartment had been badly damaged and that he would soon have to ask for help.
"I can't care for my family without money, and now without a house," he said.
People in towns and cities across Spain marked a minute's silence on Thursday in memory of the victims.
Thirty people remained in hospital, three in a serious condition. The dead included one child, the regional government's health department said.
An open-air funeral mass is to be held in the town on Friday morning, attended by Prime Minister Jose Luis Rodriguez Zapatero and Crown Prince Felipe and Princess Letizia.
The Spanish government has deployed about 800 personnel to the town, including emergency units, troops and police, Mr Zapatero said.
Spanish seismological experts are predicting smaller aftershocks over the next month in the area, which lies close to the geological fault line separating Europe and Africa.
Luis Suarez, president of Spain's College of Geologists, said the quake should not have been strong enough to bring down buildings and the scale of the damage must have been due to pre-existing structural problems.
He said the area's sandy soil also made the impact worse.
It was the deadliest tremor to hit Spain since 1956 when an earthquake killed 11 people in Albolote, Granada.