Riot in Kosovo capital over Serbian official's visit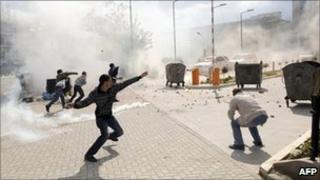 Rioting has broken out in Kosovo's capital, Pristina, during the first visit by a Serbian official since Kosovo declared independence in 2008.
Radical nationalist supporters threw stones and bottles filled with red paint at police escorting Serbian negotiator Borislav Stefanovic.
Mr Stefanovic has been meeting members of Kosovo's government.
Serbia refuses to recognise Kosovo's independence but the two sides are engaged in talks sponsored by the EU.
Police in riot gear fired tear gas and used truncheons to disperse a crowd of up to 100 ethnic Albanian protesters.
A number of protesters and police officers were reportedly injured.
The protesters were mainly supporters of the opposition Vetvendosje (English: self-determination) party.
Kosovo's independence has been recognised by 75 countries, including the US and most members of the EU, but this is still fewer than half of UN member-states.
Serbia has vowed to block its membership of international organisations such as the UN, and its stance has been supported by Russia.