Swiss vote could call time on 'suicide tourism'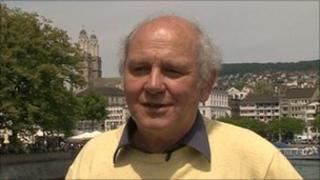 Switzerland has become the final destination of choice for citizens of nearby countries determined to end their own lives in peace. But a vote on Sunday could bring all of that to an end.
Voters in Zurich will decide on two referendum proposals relating to assisted suicide: one to ban the practice altogether, and the other to limit it to residents of Zurich only.
Assisted suicide has been legal in Switzerland for decades, and recent opinion polls show it continues to enjoy wide support among the Swiss, many of whom believe an individual has the right to decide when and how to die.
So the proposal for a ban, put forward by the deeply religious Evangelical Democratic Union, stands little chance of being passed.
"When we talk about human rights," says Zurich resident Christian Bretscher, "I think they include the right to decide about death as well."
Mr Bretscher is against both proposals, and brings his own personal experience of assisted suicide to the campaign.
Seven years ago, his mother chose assisted suicide rather than continuing with a life crippled by arthritis. She asked her son to support her. He did so, and does not regret it.
"The moment when my mother realised that now it's really possible for her to go and realised, 'Yes, I can leave this world', there was such a happiness and gratefulness in the eyes of my mother, I won't ever forget this."
Mr Bretscher remains convinced that the way his mother died was the best solution, not only for her, but for those she left behind.
"We had the chance to say goodbye to my mother in a closeness that's not usual anymore," he explained.
"Normally people die sometime somewhere in hospitals far away from their relatives; for us, it has been different.
"I'm very sure that for my mother it was a beautiful way to say goodbye to us, and for me it was a very beautiful way to say goodbye to my mother."
No 'suicide tourists'
But while Zurich voters are likely to back the right of Swiss citizens like Mr Bretscher's mother to choose their deaths, they are much less sure about whether Switzerland should be offering that same right to citizens of other countries, where assisted suicide remains illegal.
In recent years, Zurich has been in the headlines for so-called "suicide tourism": desperately ill people from Britain and Germany have come to the city to die with the help of assisted suicide organisation Dignitas.
So a ban here may mean Dignitas having to stop offering its services to overseas clients.
The Swiss government is also currently working on revisions to Swiss federal laws on assisted suicide, and will be following the votes in Zurich very carefully indeed.
Approval of the proposal to restrict assisted suicide to permanent residents, or even a close vote on that issue, could influence government thinking.
The discovery in Lake Zurich last year of dozens of urns containing ashes thought to be those of foreign citizens caused shock.
There is concern too at the speed with which foreign patients undergo an assisted suicide; many arrive in Zurich and die within just a day or two.
Campaigners against assisted suicide like Hans Peter Haering of the Evangelical Union believe this is not the kind of image Zurich should have.
"In other countries, assisted suicide is regarded as wrong. It is illegal," he said.
"So I ask myself why in Switzerland we are doing things that are not allowed in other countries - I think it is unworthy of us. It's like our banking secrecy, you know, everyone is asking why we allow that."
The founder of Dignitas, Ludwig Minelli, has refused to comment ahead of Sunday's vote.
However, in an interview with the BBC last June, he described the right to choose the time and manner of death as "the last human right" which he wanted to continue to help "implement".
'Responsibility'
But Zurich's biggest assisted suicide organisation, Exit, already has a policy of treating only people who are permanently resident in Switzerland.
"If you help someone with an assisted suicide, it is a very big responsibility," explained Exit's Vice-President Bernhard Sutter.
"Before we can help someone, we have to check every little thing. It is important that we see them several times, that we see the diagnosis and that we read the whole medical history.
"But if someone comes from far away, maybe we don't know their language, and we don't have the means to travel abroad to visit them in hospital, so how can we do our job seriously?"
So although Mr Sutter continues to support the right to choose a time to die, he, and many Swiss like him, are beginning to grow impatient with suicide tourism.
"We cannot solve the dying problems of the rest of Europe," he said. "And we think it is very sad that very ill people have to travel thousands of kilometres to go to a liberal country to die there.
"These other countries should solve their own problems with dying people, so we would be happy if Germany, or Great Britain, would change their laws."
Latest opinion polls show Swiss voters still overwhelmingly support assisted suicide, but that 66% are against suicide tourism, reflecting a growing feeling that this is a moral and ethical question which Switzerland has addressed, and now it is time for the rest of Europe to address it too.