Arctic states meet in Greenland to discuss resources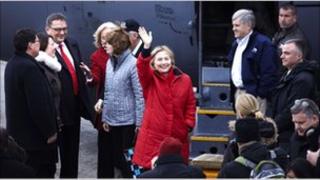 Eight states with interests in the Arctic are meeting in Greenland to discuss management of natural resources and the impact of climate change.
Rising temperatures threaten the livelihoods of traditional communities but are also set to create new openings for commercial exploitation.
Experts believe the Arctic has more than a fifth of the world's undiscovered oil and gas reserves.
A Wikileaks release has shed light on the race to carve up the region.
The whistleblower website published secret US embassy cables which, among other things, suggest that Danish Foreign Minister Per Stig Moeller joked with the Americans, saying "if you stay out, then the rest of us will have more to carve up in the Arctic".
New agreement
US Secretary of State Hillary Clinton, who arrived in Greenland on Wednesday, said before the talks that the eight states were "going to raise the visibility of Arctic issues".
She was speaking on a boat tour of a fjord in the Danish territory's capital, Nuuk, along with other foreign ministers.
The US, Russia, Canada, Norway, Finland, Iceland, Sweden and Denmark are all attending the talks together with indigenous inhabitants of the region.
They are due to sign an Arctic Search and Rescue Agreement, which the US state department says will be the first binding international agreement among the eight Arctic Council states.
Mrs Clinton said she would tell the council that Washington's ratification of the law of the sea treaty was important, calling the move "way overdue".