EU wary of weakening Schengen border treaty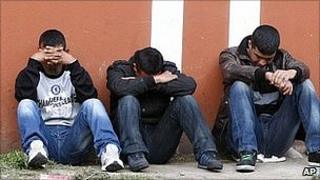 EU ministers say the rules for Europe's passport-free Schengen zone need to be clarified to deter countries from unilaterally reimposing border checks.
The home affairs ministers met to review the 25-nation Schengen accord because of tensions over this year's influx of migrants from North Africa.
There was "unanimous" agreement that freedom of movement must be preserved, an official statement said.
But the EU aims to clarify the rules about temporary border controls.
"We must not weaken Schengen in any way. But we need to amend some of the loopholes by better governance," said EU Home Affairs Commissioner Cecilia Malmstrom after the meeting in Brussels.
She called for a robust EU "community mechanism" to decide on exceptional cases where states may reimpose border controls temporarily.
"There was a clear position from every minister: the free movement of people is one of the Union's key achievements and we have to maintain and safeguard this," Hungarian Interior Minister Sandor Pinter said.
Italy and Malta, on the immigration frontline, are urging their EU partners to help them more.
Border sensitivities
Schengen allows for the temporary reimposition of border controls in special cases to ensure public order.
But France and Italy say a migrant surge is also grounds for reintroducing such checks.
The European Commission says such measures should be "an absolute last resort".
Modifications to Schengen could be approved at a European summit next month.
Schengen, which dates back to 1995, abolished internal borders, enabling passport-free movement for EU citizens across most of Europe.
It also introduced common procedures for controlling the EU's external borders.
Danish challenge
On Wednesday, Denmark announced that it would reinstate control booths on its borders with Germany and Sweden within weeks.
Denmark will carry out random checks of cars and passports, deploying more customs officers and video surveillance to tackle cross-border crime, Finance Minister Claus Hjort Frederiksen said.
Denmark, like the rest of Scandinavia, is a Schengen member and Mr Frederiksen insisted that the extra controls would be in line with the EU agreement. But the Commission says it is now scrutinising the Danish plan.
The anti-immigration Danish People's Party, a key ally of the government, had demanded the reimposition of border checks.
Populist parties elsewhere in Europe are making similar demands, amid widespread fears that migrant workers are taking advantage of Schengen at a time of economic hardship.
Mediterranean crisis
Tensions rose between France and Italy last month after Rome granted temporary residence permits to thousands of French-speaking Tunisians, many of whom then took trains to France.
On 4 May the European Commission urged the EU to step up co-operation to deal with new migration pressures in the southern Mediterranean.
More than 25,000 Africans have sailed to Italy and Malta in small, overcrowded boats this year to escape the turmoil in Libya and Tunisia.
Commissioner Malmstrom says tiny Malta is struggling with a disproportionately large number of refugees from North Africa and she has urged EU countries to resettle many of them.