John Demjanjuk: Nazi case verdict due in Munich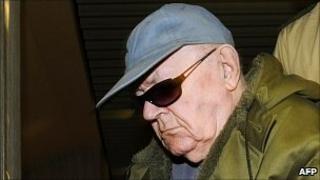 A court in Germany is expected to give its verdict in the case of alleged death camp guard John Demjanjuk.
The 91-year-old is accused of having helped to murder 27,900 Jews at the Sobibor death camp in Nazi-occupied Poland in 1943.
Mr Demjanjuk denies the charges, and his defence lawyer has called for his client to be acquitted.
The lawyer said during the Munich trial that prosecutors had failed to produce any evidence of Mr Demjanjuk's guilt.
Earlier trial
Mr Demjanjuk was helped into the court in Munich on Thursday morning in a wheelchair, wearing dark glasses and a baseball cap.
Concerns over his health have led to frequent delays in the trial. In previous court appearances, he has sat in a wheelchair or laid on a stretcher.
Asked by the judge if he had any final remarks before the verdict was delivered, Mr Demjanjuk replied no.
Prosecutors are calling for Mr Demjanjuk to be sentenced to six years in jail.
They say he participated willingly in the Holocaust.
Mr Demjanjuk insists that he was forced to help the Nazis and had no choice.
An estimated 250,000 people died in the gas chambers at Sobibor.
Born in Ukraine in 1920, he grew up under Soviet rule.
He was a soldier in the Red Army in 1942 when he was captured by the Germans.
Mr Demjanjuk has said he was held at a prison camp in Poland until 1944 when he was moved to a camp in Austria. There he joined a unit of Soviet prisoners of war formed by the Nazis to fight the Red Army.
But German prosecutors say that he was recruited by the Nazis earlier, and that between March and September 1943 he was involved in the murders of tens of thousands of Jews at Sobibor.
Mr Demjanjuk emigrated to the US in 1951 and later became a naturalised citizen.
In 2009, the retired Ohio carworker was extradited to Germany from the US to face trial.
Mr Demjanjuk had already spent eight years in detention in Israel.
In the 1980s, an Israeli court identified him as "Ivan the Terrible", a notoriously sadistic guard at the Treblinka death camp, and sentenced him to death. But his conviction was overturned after new evidence showed that another Ukrainian was probably responsible.