Pressure grows for common European migration policy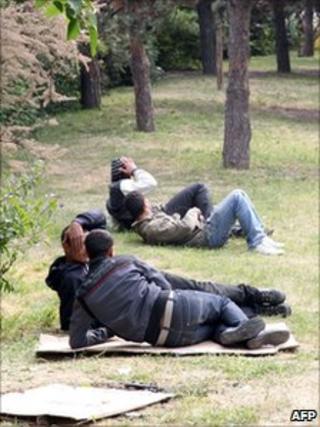 Could the growing dispute over the arrival of thousands of people from North Africa lead to a common migration policy in Europe?
In the shabby Parc de la Villette in northern Paris, hundreds of migrants displaced by the recent Arab uprisings have set up makeshift camps.
The luckier ones sleep in tents or on mattresses, others make do with flattened cardboard boxes under the trees.
"I can't return to my country, because there is a war, there is nothing for us," one says.
"There is war in Tunisia, in Libya, there is nothing for us there, we have no solution, nowhere to live."
The arrival of these and other Tunisians led to a diplomatic tiff between France and Italy in April, when thousands were handed six-month residency permits on the Italian island of Lampedusa.
Because the Schengen agreement allows passport-free travel throughout mainland Europe, hundreds of the new arrivals were able to head across to France, prompting angry French officials to temporarily close the border.
On Thursday, Home Office ministers from across Europe, including Britain's Theresa May, meet in Brussels to discuss what should be done about the new wave of migrants.
This week several thousand people arrived in Italy from Libya in just two days.
But there is a growing dispute among the 27 member states about what to do.
Some, including those on Europe's borders like Malta, believe the solution for the current crisis is for Europe to have a common policy on migration.
The Maltese MEP Dr Simon Busuttil, who is one of the key players in the European Parliament's Home Affairs committee, says it is high time Europe shared the pain.
He said: "Malta has one of the smallest populations of the EU but the biggest influx of asylum seekers.
"Traditionally the EU has offered financial solidarity, but in countries such as Malta it must go beyond financial solidarity.
"If too many people enter one country and put them under severe strain then the only solidarity it needs is movement of those people. This will mean all 27 countries sharing the response."
Burden sharing
Dr Busuttil added: "If the people, who arrived in my country in the past weeks from Libya, if they had to be assigned on a proportionate basis, we would be left with just one person."
Burden sharing is now at the heart of plans for a European common migration policy which the Commission has been trying to get approved for the past ten years.
The Commission's director-general of Freedom, Justice and Security, Stefano Manservisi, told the BBC he was determined to drive through a common policy, and wants the UK involved.
"It is important that [Europe] is equipped with a common system which is creating... a level playing field, to avoid asylum shopping and unfair burdens," he said.
Mr Manservisi said he preferred not to use the word "burden" when talking about asylum seekers. But burden or not, some countries have tried to stem the flow of migrants from North Africa in recent years.
Italy thought it had solved the problem of migrants arriving from Libya two years ago.
In 2009 it signed a multi-billion-pound deal with Colonel Gaddafi. Much of it was to help control migration, providing boats and training for the Libyan Navy.
That deal has now broken down following the Nato campaign.
John Baron, a Conservative member of the House of Commons foreign affairs committee says the new migrant wave is a predictable consequence of the conflict in Libya.
He said: "What we are seeing now is a bit of a shambles, countries falling out with each other.
"We should have known this sort of thing would have happened."
But is a common migration policy the answer? To Eurosceptics like Conservative MEP Charles Tannock it is the stuff of nightmares.
Mr Tannock said: "I believe a common asylum and immigration policy would result in a loosening of our national controls. We would end up having to take a large number of individuals imposed on us from Brussels."
A spokesperson for the Home Office said: "A common asylum system or new laws will not resolve the unprecedented influx of migrants at Europe's Mediterranean border.
"We retain the right to not opt into any agreement which will weaken Britain's borders."
The Report will be broadcast on Thursday 12 May at 2000 BST on BBC Radio 4. You can listen again via the iPlayer or download the podcast.