Rome 'gripped' by earthquake prediction fear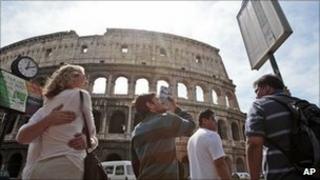 The Italian capital, Rome, might be a little quieter than usual on Wednesday.
This is because thousands of residents are said to be taking the day off fearing the city is about to be struck by an earthquake.
The prediction was made by scientist Raffaele Bendandi decades ago, but many people are apparently taking it seriously.
Television networks and the country's emergency response agency have been trying to dismiss the claims.
Planetary movement
The prediction is said to have come from Bendandi, who died 30 years ago. He claimed to have successfully forecast a number of earthquakes and his fame grew.
For weeks internet sites and blogs have been saying he mentioned Rome on 11 May as a place and time for another one.
That has created some unease, with reports that there has been an 18% increase in the number of city employees in Rome applying to take the day off.
Italy's civil protection agency has been forced to release a statement saying earthquakes cannot be predicted, whilst state television has run programmes trying to calm nerves.
But it seems there are still some who believe the Eternal City might not be so eternal after all.
Bendandi, who came to prominence in the 1920s and 30s, believed earthquakes could be predicted when the movement of the planets, the sun and the moon were studied.
Italy's dictator Mussolini was so impressed that he honoured him.
But the custodians of Bendandi's papers - aware that many people still remember the L'Aquila earthquake of two years ago - have also issued a statement saying there is no mention of a 11 May earthquake in them.