Obituary: Rauf Denktash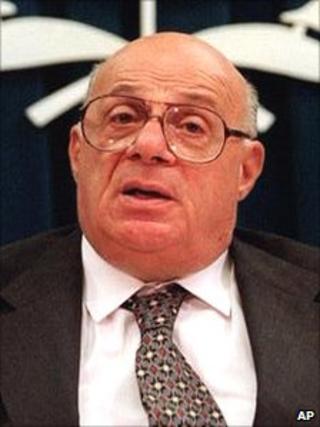 Rauf Denktash was the driving force behind the Turkish community in Cyprus for more than 30 years. After the Turkish invasion of the island in 1974 he became President of the Turkish Federated State of Cyprus and its successor, the Turkish Republic of Northern Cyprus.
Rauf Denktash remained in power as successive efforts by the United Nations, the United States, the European Union and Britain failed to reintegrate the island.
He was born in Cyprus, and trained first as a teacher and then as a barrister at Lincoln's Inn in London. He returned home to practise as a lawyer, and worked as a crown prosecutor before independence from Britain in 1960.
He began representing the minority Turkish community at international conferences in 1963.
He helped form TMT, a Turkish Cypriot paramilitary group opposed to union with Greece, against which the EOKA Greek Cypriot guerrillas were fighting.
In 1973, Denktash was elected vice-president of the Republic of Cyprus.
After the Turkish invasion that followed a Greek-inspired coup in 1974, he formed the National Unity Party and in the following year, he was elected President of the Turkish Federated State of Cyprus as the island was split into two sections.
It failed to gain international recognition from any foreign power other than Turkey, as did its successor, the Turkish Republic of Northern Cyprus, when Denktash declared independence in 1983.
EU ambitions
International conferences, efforts by three UN secretary generals, the US, the European Union and Britain failed to reunite the island as Denktash won three successive presidential elections to lead the minority 170,000 Turkish Cypriot population, protected by 35,000 Turkish troops.
In 1994 the European Union imposed a trade embargo, and that - along with 200% inflation - brought the economy to the edge of economic ruin.
A year later Denktash threatened to unite the island with Turkey if the European Union accepted an application for membership from the Greek Cypriot government.
The desire of both Cyprus and Turkey to join the European Union gave an impetus to efforts at reaching a settlement to the long-standing problem of a divided island.
Denktash and his Greek-Cypriot counterpart, Glafcos Clerides, embarked on a series of face-to-face talks which failed to achieve a major breakthrough.
Greek Cypriots want the island reunified as a single state, while Mr Denktash called for a looser arrangement linking two independent states.
In 2005 Denktash stepped down as president, to be replaced by Mehmet Ali Talat who continued to work to reunite the two sectors of the island.
Rauf Denktash's death has occurred just as some light was visible at the end of a long tunnel.