French finance minister Lagarde may face Tapie inquiry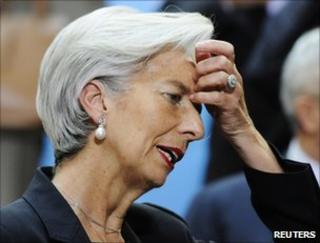 Prosecutors in France have asked for an inquiry into Finance Minister Christine Lagarde's role in awarding financial compensation to a businessman in 2008.
Public prosecutor Jean-Louis Nadal asked the court of justice, which tries serving ministers, to investigate the award given to Bernard Tapie.
He said that Ms Lagarde was suspected of abusing her authority.
An aide to the minister played down the news, saying it was "a normal step in the procedure" of a complex case.
The court of three judges has a month to decide whether to proceed with a full judicial inquiry.
Ms Lagarde, credited with playing a leading role in handling the global banking and eurozone crises, has been a cabinet minister since 2005.
With opinion polls suggesting President Nicolas Sarkozy's popularity is close to record lows, an investigation into one of his most influential and respected ministers would be a setback.
Misconduct claims have dogged his government over the past year.
'Posturing'
In 2007, Ms Lagarde intervened in a long-running court dispute between Mr Tapie, a well-known and flamboyant businessman, and the bank Credit Lyonnais.
She ordered a special panel of judges to arbitrate in the case and its ruling the following year saw the bank obliged to pay Mr Tapie 240m euros ($345m, £210m) in damages plus interest and other fines.
Credit Lyonnais, now part of Credit Agricole, has denied any wrongdoing.
Critics said the case should not have been settled by private arbitration since public money was at stake in the bank, which was part-owned by the state.
In a statement, Mr Nadal said he had evidence that gave "several reasons to be suspicious of the regularity and even the legality of the arbitration panel's litigation settlement, which could constitute an abuse of authority".
Mr Tapie, who has long been active in French business, sporting and political circles, had sued the bank over its handling of the sale in 1993 of the sportswear brand Adidas, in which he was a majority stakeholder.
The prosecutor said an inquiry could shed doubt on the arbitration but the businessman stated on Tuesday that it would make no difference to his award.
"All this posturing cannot reverse the decision, which is a legal arbitration of last resort," he told AFP news agency.
President Sarkozy lost two ministers because of recent scandals
Michele Alliot-Marie resigned as foreign minister in February after it was revealed she had flown to resorts in the jet of a Tunisian businessman during the uprising in that country
In November 2010 Eric Woerth was dropped as labour minister over accusations of peddling influence