Marc Dutroux: Belgium to free ex-wife Michelle Martin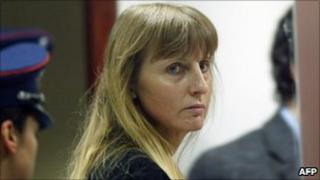 The ex-wife of Belgium's child killer Marc Dutroux - the man responsible for several rapes and deaths in the 1990s - is set to be released from prison.
A court ruled in favour of freeing Michelle Martin, who is halfway through a 30-year jail sentence she received for complicity in the Dutroux case.
Prosecutors said there were no grounds to appeal against the decision.
Dutroux was detained along with Martin in 1996. He was given a life sentence in 2004.
In a case that shocked Belgium, Dutroux was convicted of the kidnap and rape of six girls, teenage or younger. He also killed two of the girls and caused the deaths of two others.
This was the fourth attempt by Martin's lawyers to win her release, after previous requests were turned down.
'Monster'
The Belgian justice authorities have approved a request to allow Martin to be transferred to a convent in France upon her release.
Justice Minister Stefaan De Clerck told Reuters he expected her to remain in the convent for the entire 10 years of her probation period.
Mons prosecutor Claude Michaux, who had until Tuesday afternoon to launch an appeal on a procedural basis, said there were "no grounds" to appeal the ruling.
"Though I do not agree with the decision, I have therefore decided not to introduce an appeal," Mr Michaux told reporters.
Martin was found guilty in 2004 of helping Dutroux in the abductions, and of complicity in the deaths of two of the girls - eight-year-olds Julie Lejeune and Melissa Russo.
They were found buried after they had been starved to death in Dutroux's basement dungeon.
The bodies of the other two girls - An Marchal, 17, and Eefje Lambrecks, 19 - were found in 1996 in the garden of one of Dutroux's houses. Post-mortem reports showed they had been raped and beaten before being drugged and buried alive.
Two other girls - Sabine Dardenne, 12, and Laetitia, 14, were were found alive, confined in Dutroux's dungeon.
Victims' families condemned the decision, saying Martin should complete her full sentence.
"She's the murderer of my daughter; 15 years seems light," said Jean-Denis Lejeune.
"Michelle Martin was as bad as Dutroux. She could've opened the door, given them water," he said. "We're allowing a monster out into society."