EU sanctions target Syria elite in bid to end violence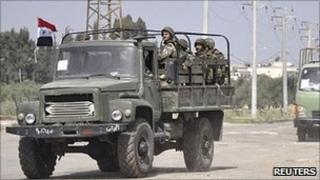 The EU has imposed an arms embargo on Syria as well as an asset freeze and visa ban on 13 top Syrian officials.
The Syrian president's younger brother Maher al-Assad tops the EU list. He is described as "principal overseer of violence against demonstrators".
President Bashar al-Assad is not included. But the EU said he too could face sanctions if he failed to end the authorities' violent crackdown.
Hundreds of civilians have been killed in the unrest, human rights groups say.
The demonstrations calling for political reform began in mid-March. The authorities say they are combating an armed insurrection by gangs of "terrorists".
Plea to end bloodshed
The EU foreign policy chief, Baroness Ashton, urged President Assad to "choose the path of reform and national inclusive dialogue and avoid further bloodshed whilst the door remains open".
Activists in Syria report thousands of arrests by security forces and the southern town of Deraa, a focal point of the uprising, has been cut off for two weeks.
Troops and tanks have now moved into the city of Homs and remain deployed in the coastal town of Baniyas, according to the reports. Columns of tanks have also been seen moving towards the central city of Hama.
In her statement, Baroness Ashton said the EU "urges Syria to put an immediate end to violence and swiftly introduce genuine and comprehensive political reform, the only way to provide peace and stability for Syria in the long term.
"Failing that, the EU will consider extending the restrictive measures in light of the developments, including at the highest level of leadership."
The EU has now implemented an embargo on exports to Syria of arms and equipment that could be used for internal repression.
Key Assad aides
Maher al-Assad, 43, heads the Republican Guard and tops the list of 13 targeted by EU sanctions. They are powerful players in President Assad's inner circle.
The head of Syria's intelligence service, Ali Mamluk, is next on the list.
New Interior Minister Muhammad Ibrahim al-Shaar is also blacklisted.
An associate of Maher al-Assad is also included - Rami Makhlouf, who is one of Syria's richest men. The EU says he "bankrolls the regime, allowing violence against demonstrators".
Last month the US imposed similar sanctions on Maher al-Assad, Ali Mamluk and Atif Najib, the former head of intelligence in Deraa. Atif Najib also figures on the EU list.
The Syrian Observatory for Human Rights says 621 civilians and 120 security personnel have been killed since pro-democracy protests began in March. Another Syrian rights group, Sawasiah, says more than 800 civilians have been killed.
Officials dispute the civilian toll and say about 100 soldiers have died.
The unrest poses the most serious challenge to President Assad since he succeeded his father, Hafez, in 2000.
CLICKABLE
Qamishli
A mobile phone snapshot, reportedly taken in Qamishli on 29 April, shows protesters carrying banners written in Arabic and Kurdish demanding democracy.
Damascus
Razan, who is a resident of Damascus, tells the BBC about violence and protests around Syria.
<--
Talbisah
This unverified video seems to show a peaceful protest in Talbisah. Moments into the footage, tanks fire on unarmed civilians. Wyre Davis reports.
-->
Deraa
Residents of Deraa walk past a burnt-out building. It follows shelling by troops in what human rights groups say was an intensified crackdown on protests in recent weeks.
Homs
Syrian army vehicles were photographed near Homs and broadcast on the Syrian opposition internet channel Sham SNN on 11 May.