Italy PM Berlusconi in court over Mills 'bribery' case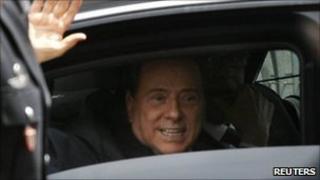 Italian Prime Minister Silvio Berlusconi has appeared in court on charges he bribed a witness to perjure himself in another trial.
It is the first time he has appeared in court over allegations he paid his former British lawyer David Mills to provide false testimony.
Mr Berlusconi faces two other corruption trials and is also accused in another case of paying an underage prostitute and of abuse of power.
In all cases he says he is innocent.
Mr Berlusconi says prosecutors in Milan are pursuing a vendetta against him.
The prime minister is alleged to have paid Mills $600,000 (£367,000) to lie under oath in two corruption trials in the 1990s. Mills himself was convicted of perjury in 2009 but the case expired under a statute of limitations and he was never jailed.
Mills is the estranged husband of former UK cabinet minister Tessa Jowell.
Sex denial
Mr Berlusconi has appeared in court several times in recent months.
In January, Italy's Constitutional Court swept away part of a law passed in 2010 which granted 18 months of immunity to the prime minister and some of his senior ministers.
Several trials against Mr Berlusconi that had been suspended were allowed to resume, including the Mills case.
The most explosive of the other trials is known as the Ruby case. Prosecutors allege that the Italian leader paid for sex with Karima El Mahroug, a nightclub dancer known as Ruby, while she was still 17.
Although frequenting prostitutes is not a crime in Italy, having sex with one under the age of 18 is an offence that commands a prison sentence.
Mr Berlusconi and Ruby both deny having sex.
He is also accused, in the same case, of abusing his power by intervening to have Ruby released from police custody on unrelated theft charges.
Mr Berlusconi has not yet appeared in court in the Ruby case - but has done so in two others.
In what is known as the Mediaset case, the prime minister and other executives of his Mediaset business group are accused of buying US movie rights at inflated prices via offshore companies under his control in order to reduce Mediaset's tax liabilities.
In a further case known as Mediatrade, Mr Berlusconi denies claims he inflated the price paid for TV rights and then skimmed off the difference to fund political and other activities. One of the defendants is the prime minister's son, Pier Silvio Berlusconi, Mediaset's deputy chairman.