International Crisis Group: Bosnia in post-war crisis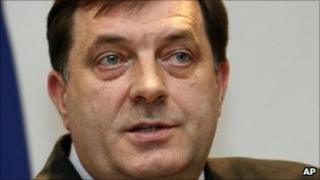 Bosnia is facing its worst crisis since the war ended in 1995, a leading international think tank has warned.
The International Crisis Group (ICG) said political crises were threatening to tear the state apart.
But it urged the international community not to try to block a forthcoming Bosnian Serb referendum.
The referendum aims to gauge support for the presence of an international high representative, imposed under the Dayton Accords after the war.
Many suspect the move by Bosnian Serb Prime Minister Milorad Dodik is a possible step towards a referendum on independence.
The country is currently divided into two semi-autonomous entities: the Serb-dominated Republika Srpska and the Bosniak-Croat Federation of Bosnia-Hercegovina.
While the Serbs want to maintain as much autonomy as possible, the international community and the Bosniaks have been pushing for more centralised institutions and the country to fulfil conditions to join the EU.
"These are crises of legitimacy, clashes between different visions of what kind of state Bosnia should be," Marko Prelec of the ICG said. "The conflict is starting to tear apart state institutions, and it can threaten the state itself."
Mr Prelec said "compromises" were needed to allow all sides to "feel they have won enough to justify stepping back from the brink".
The ICG said that although violence was "probably not imminent" there was a "real prospect of it in the near future unless all sides pull away from the downward cycle of their maximalist positions".
Turkey's ambassador has said that the High Representative in Bosnia, Valentin Inzko, has given Bosnian Serbs a week to call off the referendum they are planning for mid-June.
Vefahan Ocak told the Associated Press that it would be an "opportunity for meditation".
Mr Inzko, an Austrian diplomat, has the power to ban the referendum. He has already warned that the referendum has the potential to jeopardise the 1995 Dayton peace agreement.