African migrants missing in sea off southern Spain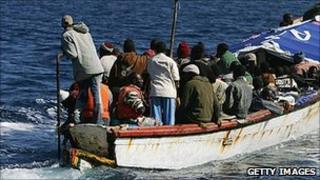 Hope are fading for 22 African migrants missing after their small boat took on water off the coast of southern Spain.
Spanish rescuers pulled 29 Africans from the water on Thursday. A search is continuing for the others, about 43km (23 nautical miles) from Melicena.
According to some of the rescued sub-Saharan Africans, a woman, two infants and 19 men are missing.
The boat had set off from Morocco. It is unlikely anyone could survive in the water after 10 hours, officials say.
In recent years Spain has seen a decline in the numbers of African migrants reaching its shores by boat, since a peak of 13,425 in 2008.
The migrants, fleeing poverty in West Africa, risk their lives in open, rickety boats threatened by strong currents. In most cases in the past they headed for the Canary Islands.