Tunisia's Ben Ali to face charges over deaths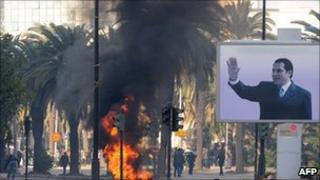 Tunisia's ex-leader Zine al-Abidine Ben Ali and his wife are to face new charges linked to the killings of some protesters during January's uprising.
Mr Ben Ali was ousted after weeks of protests and fled to Saudi Arabia.
He already faces 18 different charges, including voluntary manslaughter and drug-trafficking.
These new charges include "instigating disorder, murder and looting" and "plotting against the internal security", the justice ministry said.
According to the official news agency Tap, the new charges are being investigated by a court in the coastal town of Sousse.
They stem from an incident in the central town of Ouardanin on the evening of 15 January into the morning of 16 January, a source at the justice ministry told the news agency.
The security forces killed four people after opening fire on protesters trying to stop Mr Ben Ali's nephew, Kais Ben Ali, from fleeing the town.
Mr Ben Ali and his wife Leila Trabelsi fled to Saudi Arabia on 14 January.
Fourteen security officers have been charged over their role in the Ouardanin shootings, Tap reports.
The former president is accused of ordering them to open fire.
The UN calculates 219 people died during the Tunisian uprising that began in mid-December.
Since January, caretaker authorities have appointed a new government and the notorious and extensive secret police service has been dissolved.