Obama, Bin Laden and the politics of pictures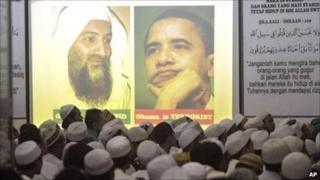 The plan is that President Barack Obama will remain silent on Thursday.
He is here in New York to visit Ground Zero and meet relatives of victims of the attacks on America 10 years ago. Vice-President Joe Biden is doing a similar thing at the Pentagon in Washington.
When I first heard about the event, I expected it to be accompanied by a fairly meaty speech. Failing that, I thought there would be some dignified remarks about unity. But it has been decided otherwise.
The president's spokesman, Jay Carney, has said that it is fitting and appropriate for the president to visit Ground Zero and honour the victims in the wake of Bin Laden's death, which he called a significant and cathartic moment for the American people.
After laying a wreath, the president will meet relatives of victims of the 9/11 attacks and some of the emergency services who were first on the scene.
Mr Carney explained the president's planned silence by saying he would honour the spirit of unity that was felt after that attack 10 years ago. The power of that requires no words.
Partisan?
Some are more worried about the absence of pictures than words. Sarah Palin has said the photographs of Bin Laden's corpse should have been released as a warning to America's enemies, and called Mr Obama's decision "pussy-footing around". Several Republicans in Congress agree with her.
The president told CBS, in an interview to be broadcast at the weekend:
"It is important for us to make sure that very graphic photos of somebody who was shot in the head are not floating around as an incitement to additional violence or as a propaganda tool. That's not who we are. We don't trot out this stuff as trophies.
"The fact of the matter is this was somebody who was deserving of the justice that he received, and I think Americans and people around the world are glad that he is gone. But we don't need to spike the football*. And I think that given the graphic nature of these photos, it would create some national security risk - and I've discussed this with Bob Gates and Hillary Clinton and my intelligence teams, and they all agree."
So do some Republicans. The idea that not releasing is unwise may play, and I strongly expect the world will one day see these pictures.
The idea that it is weak to worry about the response it may create will only play with a certain crowd, and not one the president has any chance of winning over. But his silent wreath-laying will be seen by millions and that image may too be a tool, in the president's campaign to be seen as above partisan politics. Politics is never so political as when it is claiming not to be.
*Spiking the football means to rub one's nose in something - from the taunting habit of celebrating a touchdown in American football by throwing the ball to the ground.