Turkey: Attack follows Recep Tayyip Erdogan poll rally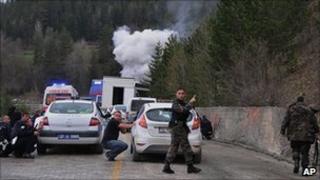 A policeman has been killed during an attack in northern Turkey, shortly after a visit by Prime Minister Recep Tayyip Erdogan, Turkish media say.
Reports said a grenade was thrown at a police vehicle near the city of Kastamonu, and then gunmen opened fire.
The prime minister had been in the city earlier, campaigning for next month's general election.
The police had been escorting a bus carrying officials from Mr Erdogan's governing AK Party away from the rally.
Two police officers were also wounded in the attack, Turkish TV said. Footage showed the police car completely burned out.
'They cannot win'
No group has so far said it carried out the attack.
However, when Mr Erdogan arrived for another rally in the nearby city of Amasya, he appeared to blame separatists.
"These vile hands, these dark minds that do not believe in democratic struggle, these terrorists, these separatist forces that know they cannot win at the ballot think they will reach their ends through such attacks," he told party supporters.
"We will not let anyone divide this land. My mighty nation will never yield to bandits."
Kurdish rebel group the PKK has waged a 26-year insurgency against the Turkish state which has claimed 40,000 lives. It is designated a terrorist organisation by Turkey, the EU and the US.
The PKK ended a six-month ceasefire in February and there are fears of rising violence ahead of the election.
Islamist and left-wing groups have also carried out bomb and gun attacks across Turkey in the past.
Kastamonu - on the Black Sea - has not previously been a target for militant attacks.
Opinion polls suggest that Turkey's parliamentary elections on 12 June will bring Mr Erdogan a third consecutive term in office.