EU moves to tighten border controls in Schengen zone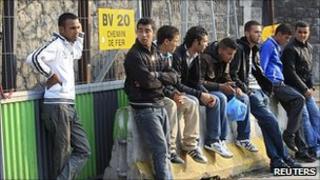 EU governments in the passport-free Schengen zone would be able to reimpose border controls when faced with extraordinary flows of migrants, under new European Commission proposals.
The Commission stressed that such border checks should be temporary.
The move reflects concern about the arrival in Italy this year of about 25,000 illegal migrants from North Africa, most of them Tunisians.
Most EU countries are in the 25-nation Schengen zone.
Only a threat to public order is currently seen as justification for reimposing border controls.
The rule changes will be discussed by EU interior ministers on 12 May and are expected to be finalised at an EU summit next month.
"To safeguard the stability of the Schengen area, it may also be necessary to foresee the temporary reintroduction of limited internal border controls under very exceptional circumstances, such as where a part of the [EU] external border comes under heavy unexpected pressure", EU Home Affairs Commissioner Cecilia Malmstroem said.
France-Italy tensions
The BBC's Chris Morris in Brussels says the idea is to isolate countries which are struggling to police the Schengen area's external frontiers, and to keep illegal migrants out.
The move is part of a broader effort to reinvigorate the EU's policies on immigration and asylum.
For years Europeans in 25 countries in the Schengen area have become accustomed to free movement across borders for people and goods. It is a signature achievement of the European Union and an important part of the single market, our correspondent says.
But the influx of North African migrants has caused tension between France and Italy.
Italy complains that it is not getting enough help from its EU partners, faced with the influx of people fleeing political turmoil and violence in Tunisia and Libya.
French President Nicolas Sarkozy and Italian Prime Minister Silvio Berlusconi called for a revision of Schengen after France stopped migrants arriving by train from Italy.
The French government was angered by Italy's decision to grant the migrants - many of them French speakers - temporary residence permits, which enabled them to enter France legally.
The Schengen zone covers 22 EU states and three non-EU countries - Iceland, Norway and Switzerland. The UK and Irish Republic still maintain passport controls, but comply with some of the Schengen provisions.
Schengen countries apply common procedures on the EU's external borders and their police forces have a common database.
'No fortress Europe'
Ms Malmstroem said that "secure borders does not mean that we are constructing fortress Europe.
"It must still be possible for people to seek international protection in the European Union and we must also keep it open for the labour migration that we so desperately need."
She called for the whole of the EU to help nations such as Italy and Malta cope with a migration surge.
Before the North African unrest Greece's border with Turkey was the main EU entry point for illegal migrants.
"We should not leave it only up to the member states at our external borders to deal with extraordinary migratory situations," Ms Malmstroem said.
It is not yet clear how much influence the European Parliament will have over any legislation that changes the Schengen rules, or whether MEPs will get to vote on the final recommendations.
Thirteen EU governments oppose giving MEPs the power of co-decision on Schengen, a source at the parliament told the BBC.
If the parliament is only consulted on the issue then EU governments can ignore opposition from MEPs.
A group of MEPs has already voiced concern about the plans to modify Schengen.