Migrants pushed towards exit by Spanish jobs crisis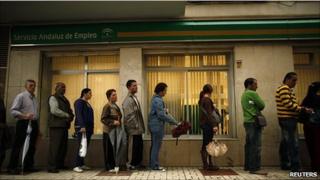 When Yousuf Akue Ouma arrived in Spain in 2005, life was good.
The country was one big building site - and he found work easily. He earned enough to cover the bills and send money back to his young family in Nigeria.
Then the economic crisis hit and everything changed.
Mr Ouma lost his job in 2007 and has not found any stable work since.
When his residence permit came up for renewal last year, his application was refused. Without a job, he was told, he was not entitled to stay.
"There's no work in Spain, so how can I find any?" Mr Ouma asks while at the office of the Madrid lawyer who is helping appeal against the decision, trying to renew Mr Ouma's residency.
"My family at home is crying: 'Send me money!' But I've got none to send. Sometimes I go in the street, begging," he says.
Tension rising
It was immigrant labour - mostly from Latin America and Africa - that helped fuel Spain's economic boom. Many people made good money; many later brought their families to join them.
But, today, 32% of Spain's immigrant workers are unemployed, compared with 21.3% of the overall workforce. Many are now losing their residency rights and facing expulsion.
"(With) the economic crisis, it's a frequent problem," explains lawyer Alfredo Arrien Paredes.
"We have thousands of illegal citizens in Spain for that reason: they lost their jobs [because of the] economic problems, and then their residency permit."
The government has no official figures. But the Catholic charity Caritas reports a surge in the number of people it describes as "suddenly irregular" using its services. It estimates up to 800,000 people could be affected.
With local elections this month, and unemployment the voters' biggest complaint, there is concern that immigrants are becoming a scapegoat.
"There is a rise of xenophobia and racism," warns Ana Abril Fernandez of Caritas. "We think this is the time for public and political figures to run sensitivity campaigns to maintain social cohesion."
Instead, Caritas notes a rise in police identity checks on immigrants, even inside its soup kitchens.
And Jose Manuel Sanchez Fornet, secretary general of Spain's biggest police trade union, admits police are under pressure to take a harder line.
"The mode of policing now is returning to how it was under Franco," he says.
He tells the BBC that police are given verbal quotas to stop and check 10-25 people every day, regardless of whether they are suspected of a crime.
"We can't detain a worker just because they've lost their job - they've done nothing wrong. But the police are being pressured into doing just that, that's why we are complaining," Mr Fornet explains.
Time to leave
In Madrid, many immigrants are complaining too.
"If I make five journeys a day, they'll stop me three times," says one man from the Dominican Republic, who does not want to give his name.
He says he worked legally here for six years; now he is unemployed. He makes a few euros distributing leaflets outside the metro, to get by.
"There never used to be this many police checks. I think it's because of the crisis. They want people to leave the country to make things easier. That seems like discrimination to me," he says.
Spain's interior ministry records a fall in the number of people deported in 2010 for illegal residency. But there is no data on how many immigrants are currently in deportation camps - or have been issued an expulsion order and then slipped into the shadows.
Meanwhile, the number of foreigners leaving Spain voluntarily is on the rise.
After nine years in Madrid, Felix and Maria Suarez flew back to Ecuador last week with their daughters. All three children were born in Spain.
"It's like we're emigrating all over again," Mr Suarez said. "But this time, it's to our own country."
He had been out of work for two years. His unemployment benefits ran out in March.
"Things here really changed with the crisis. Most mornings I'd wake at three o'clock, thinking about how we have no money, and worrying about how we'd get by. It's been really hard," he admitted.
The fact his wife had no residency papers made matters worse.
The family could not afford to return home unaided, so they applied for government funds to cover their travel costs.
"It's far more economical for people to go back to their countries using these programmes than to stay here on the streets or using social services," explains Estrella Rodriguez Pardo, from the Secretariat of State for Immigration.
Desperate to stay
There were more than 6,000 applications for aid to return home last year, a six-fold increase.
"It's cheaper for the government, and more dignified for the worker," Ms Pardo says.
"But if people have bet everything on leaving their country and coming here, it's very difficult to take that decision."
That is why Yousuf Akue Ouma wants to stay in Spain and try to work, despite the economic crisis.
"Very soon, maybe this country will be OK. But in Nigeria, it is not OK," he reasons.
"We are already here, so we need to pray to God that the country will be OK. We pray for the good things."
First and foremost, that means praying for his residency permit to be renewed.