Russia charges US spy ring 'traitor' Alexander Poteyev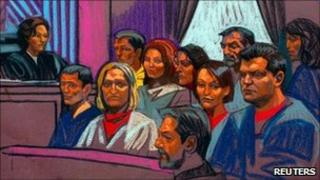 A former top Russian spy has been charged in Moscow over the exposure of 10 sleeper agents in the United States.
The man, identified as Alexander Poteyev, will be tried in his absence with high treason and desertion, Russia's secret service, the FSB, said.
Russian media say he fled to the US days before last year's scandal broke.
The 10 sleeper agents were expelled by the US and exchanged for four Russians who allegedly spied for the West, in the biggest swap since the Cold War.
Russian intelligence sources have been quoted as saying the affair was a major embarrassment for the Federal Security Service (FSB).
But, on their return, the Russian sleepers were met by Prime Minister Vladimir Putin, and bestowed with Russia's top honours by President Dmitry Medvedev.
They included Anna Chapman, who has since become a media sensation in Russia.
Directorate C
"The FSB investigative department has concluded its investigation into Russian citizen AN Poteyev," Russian news agencies quoted an FSB statement as saying.
"The indictment was submitted to the Moscow district military tribunal for a hearing on April 21."
High treason carries a maximum of 20 years' prison.
Mr Poteyev was apparently exposed in the Russian newspaper Kommersant last November - though it used the name of a Colonel Shcherbakov.
Russian media say Mr Poteyev was indeed a colonel at Directorate C, a spy agency that placed long-term agents in foreign countries.
"He fled Russia a few days before Russian President Dmitry Medvedev's June trip to Washington and is currently in the United States," an unnamed security official was quoted as saying by the Russian news agency Interfax.
In its report in November, Kommersant quoted an unidentified Kremlin official as suggesting that a Russian hit squad was planning to kill the colonel.