EU warned against changing Schengen deal on borders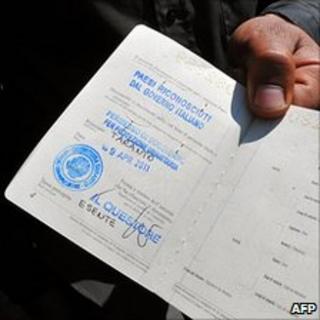 Euro MPs have warned against allowing EU governments to impose new controls that would undermine the Schengen passport-free travel accord.
"Schengen should not be weakened," said Carlos Coelho, who heads the group of MEPs dealing with Schengen.
An influx of North African migrants has caused tension between France and Italy. Both countries want more scope to reintroduce temporary border checks.
The European Commission will propose new rules on Schengen on Wednesday.
The Commission paper - a basis for discussion with the parliament and 27 EU governments - will look at ways to improve the operation of the Schengen zone, which covers most of the EU.
It will also address the common asylum system - an issue which divides member states.
North Africa exodus
Euro MPs in the Greens/EFA group, Judith Sargentini and Franziska Keller, demanded more clarity on the special circumstances under which temporary border controls could be reintroduced.
Currently Schengen states have to claim a threat to public order as justification for reimposing border controls. A migration surge is not considered sufficient reason to do so.
About 25,000 migrants, most of them Tunisians, have arrived in Italy on small, overcrowded boats this year. Most came to the tiny island of Lampedusa, overwhelming the local reception centre.
Italy complains that it is not getting enough help from its EU partners, faced with the influx of people fleeing political turmoil and violence in Tunisia and Libya.
French President Nicolas Sarkozy and Italian Prime Minister Silvio Berlusconi called for a revision of Schengen after France stopped migrants arriving by train from Italy.
The French government was angered by Italy's decision to grant the migrants - many of them French speakers - temporary residence permits, which enabled them to enter France legally.
The Schengen zone covers 22 EU states and three non-EU countries - Iceland, Norway and Switzerland. The UK and Irish Republic still maintain passport controls, but comply with some of the Schengen provisions.
Schengen countries apply common procedures on the EU's external borders and their police forces have a common database.
'Symbol of Europe'
In a letter to Mr Sarkozy and Mr Berlusconi the European Commission President, Jose Manuel Barroso, said "the temporary restoration of borders is one of the possibilities, provided this is subject to specific and clearly defined criteria".
The European Commission, which drafts and oversees EU laws, considers that reintroducing internal border checks in the EU should be a last resort. It has happened on occasion, for example during major sporting events.
But European Parliament negotiator Carlos Coelho said "Schengen is free movement and, like the euro, is one of the symbols of Europe". He called for a "European approach" to the issue, to stop countries reintroducing border controls unilaterally.
The parliament's Civil Liberties Committee discussed Schengen on Monday. Any policy changes will have to be approved by parliament and the Schengen zone governments.
The MEPs backed Mr Coelho's call for the zone to be extended to Bulgaria and Romania.
They said the two countries, which joined the EU in 2007, had met the conditions necessary for applying Schengen rules efficiently. Ensuring the security of the EU's external borders is a key condition.
The new Schengen proposals will be high on the agenda of EU government talks next month.
Anti-immigration parties have gained ground in a swathe of EU countries, including France and the Netherlands, making the issue politically sensitive for EU leaders.