Poland thrilled by blessing of 'our Pope'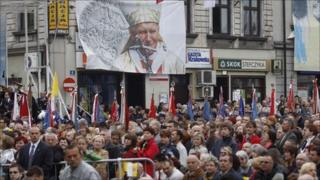 Millions of people in John Paul II's homeland, Poland, are thought to have watched the Beatification Mass live on their televisions.
Despite the rain which affected much of the country, many stood under umbrellas in squares and parks to watch on specially erected large TV screens.
More than 100,000 did so in Warsaw's Pilsudski Square, in the late pontiff Karol Wojtyla's small hometown of Wadowice, southern Poland, and in the nearby city of Krakow, where he lived for half of his life.
"Are Poles proud? It's self-evident," Father Wieslaw Dawidowski, an Augustinian theologian, told the BBC.
"During the ceremonies in the Vatican the streets of Warsaw were empty. You couldn't even get a cab."
It was in Pilsudski square in 1979 during the Pope's first pilgrimage to his homeland - the first by any pontiff to a communist country - that he famously called out to the Holy Spirit to change the face of the land.
It wasn't an overtly political statement, but the millions watching did not miss its double meaning.
Individuals standing in those joyous crowds which greeted the homecoming Pope began to feel that together they had the power to resist the communist authorities.
In a little over a year the opposition Solidarity movement was created and the communist system in Poland was holed below the waterline.
"He will enter into history as the Pope who contributed to the collapse of the communist regimes throughout Europe," Fr Dawidowski said.
'Lifelong saint'
He added it was significant that, for the first time in decades, Poland did not hold a 1 May Labour Day demonstration.
"It was always a celebration of the international proletariat and we remember how violent that path was with its gulags, Stalin and bloodshed. It is one of his great post-mortem achievements," said Fr Dawidowski.
Polish Prime Minister Donald Tusk attended the Mass in Wadowice and visited Karol Wojtyla's birthplace, now a museum.
"I wonder what we would have been like and what would not have happened if we had not had our Pope," he said.
One of Karol Wojtyla's classmates, Eugeniusz Mroz, now 90, was also there.
"It is a great joy that my friend with whom I went to school is being counted among the blessed," he said.
In Warsaw the flags of Poland and the Vatican were flown from apartments, taxis and buses.
Among the crowd in Pilsudski Square was Julia Koszewska, 28, vice-president of a Catholic students' club.
She said she would have liked to have seen "our Pope" beatified immediately after his death six years ago.
"I think it was part of his character. All of the things he said were deeply thought through but he was also spontaneous especially as his meetings with young people proved," she said.
The Polish Primate, Archbishop Jozef Kowalczyk, spoke for many of his compatriots when he said: "We waited for this day with longing.
"We know that John Paul II has not become a saint today, he was a saint throughout his whole life."