Germany 'bomb plotters under al-Qaeda orders'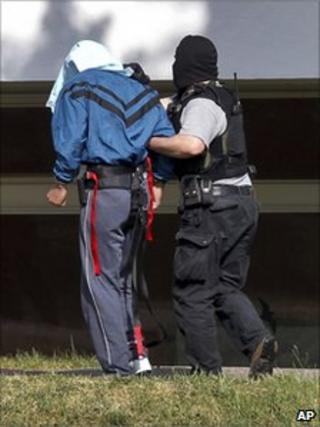 One of the three men held in Germany on Friday on suspicion of planning a bomb attack had received orders from al-Qaeda, prosecutors have said.
A senior al-Qaeda figure on the Afghan-Pakistan border reportedly gave the order for several attacks but targets had still not been chosen.
The three, who were under surveillance, were arrested in Duesseldorf and Bochum after allegedly buying bomb chemicals.
They are said to be part of a cell numbering seven or eight militants.
The three were flown by helicopter, escorted by masked guards, to a federal court in Karlsruhe on Saturday.
Moroccan national Abdeladim K, the group's 29-year-old suspected ring-leader, was charged with membership of a foreign terrorist organisation.
It was not immediately clear what charges the other two suspects, Jamil S, a 31-year-old German-Moroccan, and Amid C, a 19-year-old German-Iranian, would face, if any.
Islamists in Germany have been associated with several attacks:
In March, an ethnic Kosovo Albanian shot dead two US airmen on a bus at Frankfurt airport, injuring two others before his gun jammed; he told police he had wanted to avenge Afghans killed by Americans, but he was not thought to be part of a militant group
In 2006, home-made bombs were placed on trains in Cologne but failed to explode; a Lebanese man was jailed for life for the attack
The 9/11 ring-leader, Mohammed Atta, worshipped in a mosque in the northern city of Hamburg
'Trained in Waziristan'
Abdeladim K had been in regular contact with a senior al-Qaeda member based on the Afghan-Pakistan border, deputy federal prosecutor Rainer Griesbaum told reporters in Karlsruhe.
The trio had planned to set off a shrapnel-laden bomb in a crowded place such as on a bus, but the plot had still been "in the experimental phase", he said.
Joerg Ziercke, president of the federal criminal police office (BKA), said he thought that the men were part of a cell of perhaps seven or eight people, though he did not disclose the whereabouts of the others.
Abdeladim K had been living illegally in Germany since last May, the officials added. The German authorities had been tipped off about his movements by US intelligence after he left an al-Qaeda training camp in in the Pakistani tribal region of Waziristan, close to the Afghan border.
"There is intelligence that a high-ranking al-Qaeda member in Afghanistan has been planning several attacks in Germany as early as the beginning of 2010," Mr Griesbaum said.
"For this purpose he recruited several dedicated personnel who were trained in Waziristan and who plotted to commit at least two attacks in Germany.
"These - according to our intelligence - were supposed to have been carried out with weapons and explosives and be directed against representative buildings and large masses of people. Some of the selected attackers are supposed to be back in Germany."
The Eurovision song contest takes place in Duesseldorf in two weeks, but it is not known if the alleged militants planned an attack there, the BBC's Steve Evans reports from Berlin.
'Bombing cheered'
Der Spiegel magazine reports that the German secret service was aided by the CIA and Moroccan authorities in a three-month operation.
Phone calls and e-mails were intercepted by German intelligence from one of the suspects.
The three were arrested when investigators heard they were planning a test after buying chemicals which could be used to make a bomb, police said.
It had been "a difficult security calculation", said Mr Ziercke, as the authorities had had to weigh the value of continuing to observe the suspects against ensuring they did not succeed in carrying out an attack.
Officials added that the trio had praised Thursday's bomb attack on a cafe in Marrakesh, Morocco, which killed 15 people, although they had no connection to that attack.
Mr Ziercke warned that Germany remained a possible target of international terrorists.
"We cannot sound the all-clear," the BKA chief said.