Russian nationalists convicted over Moscow killings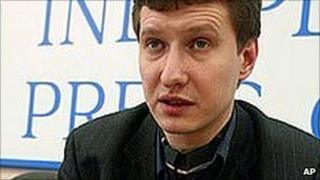 Two Russian nationalists have been convicted over the killings of human rights lawyer Stanislav Markelov and reporter Anastasia Baburova in 2009.
A Moscow jury found Nikita Tikhonov guilty of the murders and his companion Yevgenia Khasis of complicity.
Prosecutors said Tikhonov was the gunman while Khasis followed the victims as they left a news conference and walked to a Moscow metro station.
Mr Markelov and Ms Baburova worked on the opposition Novaya Gazeta newspaper.
Novaya Gazeta specialises in human rights issues.
Mr Markelov was a prominent lawyer whose work had angered nationalists. Among other things, he had defended Chechens who were victims of alleged human rights abuses.
When Tikhonov and Khasis were arrested in November 2009, Russian police sources linked them to an outlawed far-right group, Russian National Unity.
However, the group denied any involvement in the murders and said the two had never been members.