Guitar gives classical gems new sparkle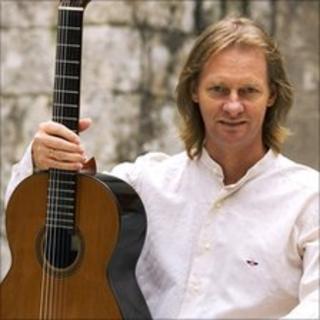 Classical guitar virtuoso David Russell explains why his choice of instrument is helping to revive and spark new interest in the music of composers such as JS Bach and his contemporaries.
In today's crowded music market the classical guitar sometimes struggles to make itself heard alongside other guitar genres.
But this versatile instrument is helping to introduce new listeners to the music of Bach and other outstanding composers of the Baroque period, such as the Italian Domenico Scarlatti and Bach's German friend Silvius Leopold Weiss, who was a celebrated lute player.
David Russell is a leading exponent of Baroque music - one of a few classical guitar virtuosos who are rediscovering masterpieces from that period and transcribing them.
So why does Johann Sebastian Bach work so well on the guitar?
The music "almost transcends the instrument itself", says Russell. "Maybe he wrote it thinking of one instrument, but often it doesn't rely on instrumental tricks or devices. It's very pure in its conception - and each instrument can bring its own qualities to the music."
Time traveller
The classical guitar's love affair with the Baroque - the period from roughly 1600 to 1750 - is surprising on one level because little of the music was actually written for the guitar.
But solo pieces for lute or harpsichord can work especially well on the guitar. There are also skilful guitar arrangements of organ and choral works - often more technically demanding.
Don't some listeners find this music a bit too remote?
Russell says it is important to get the presentation right. "The audience is drawn in by your interpretation and personality, without any problem."
Not surprisingly, Bach features in Russell's latest concert programme. He played some rarely performed Bach sinfonias at London's Wigmore Hall this week, having just completed a US tour.
Another concert highlight was Russell's guitar arrangement of a complex keyboard work by George Frideric Handel - Suite No 7.
Handel was another Baroque maestro who, like Bach, wrote prolifically for solo instruments, ensembles and choirs.
A trademark of the Baroque style is ornamentation - decorative notes that embellish the melody. But modern musicians go back to the Baroque because of the richness of harmonies, diversity of rhythms and contrasting moods.
"I don't try to make the guitar sound like the harpsichord or lute," says Russell. "That makes you end up being like a bad copy."
But he does spend time learning from musicians who play Baroque instruments because "they have a very strong appreciation of the style".
Symbol of Spain
It was Andres Segovia who first showed the world what the guitar could do with Baroque music, in the early 20th Century. He made it more than just a charming Spanish "folk" instrument and is still revered by many classical guitarists.
Russell also counts Julian Bream and John Williams among his guitar heroes. They made the 1970s a golden decade for the classical guitar but its mass popularity has since faded to some degree.
It is vital for a performer to be aware of current tastes and Segovia's rather romantic delivery of Baroque music has gone out of fashion, says Russell.
The classical guitar repertoire would be impoverished were it not for the hundreds of transcriptions of music written originally for other instruments.
Even some of the best-known Spanish guitar music was actually written for piano. Last month Russell released a CD of works by Isaac Albeniz - romantic musical sketches which together form a kind of mosaic of Spain. Pieces like Granada and Asturias sound tailor-made for guitar, yet they were written for the piano.
Russell won top honours at the Royal Academy of Music in London, but he grew up on the Balearic isle of Menorca and still lives in Spain. So he is imbued with the Spanish guitar tradition.
Modern compositions
Music that has stood the test of time will always find an audience but does the classical guitar get its fair share of new compositions, to enrich and develop the repertoire?
The popularity of electric, folk and jazz guitar means classical guitar has also gone global, benefiting from the modern explosion of musical innovation and fusion.
A favourite of guitar virtuosos today is a dazzling Turkish-style piece called Koyunbaba, by Carlo Domeniconi.
Meanwhile, Chinese guitarist Xuefei Yang plays not only traditional repertoire brilliantly but also Chinese compositions unfamiliar to Western ears. Eleftheria Kotzia has put Greece firmly on the classical guitar map, exploring modern Greek composers' works.
The globalisation of influences is well illustrated by The Legend of Hagoromo, a Japanese guitar work by Keigo Fujii, which combines echoes of traditional Japanese music with elements of rock guitar.
British guitarist Fiona Harrison, who has just recorded the piece, admires its technical innovations, which are very challenging for any classically trained guitarist.
Besides all these choices and techniques to master the classical guitar also requires feats of memory. Even top performers can struggle to avoid memory lapses.
David Russell recommends memorising a piece by starting at the end and working back, bit by bit - so you really get to know it "back to front".
Musicians talk about being on "auto-pilot", when muscular memory tells their fingers where to go. But that kind of memory can sometimes play tricks and is not totally reliable.
Russell says he has trained himself to "play pieces through in my mind". "I can do that on the plane for example, without the guitar."
In early June David Russell will perform at the Koblenz guitar festival in Germany and in late August at the West Dean guitar festival in southern England.