World awaits Britain's royal wedding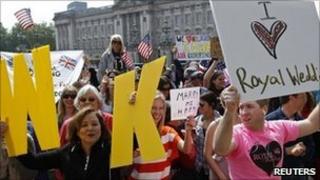 Hundreds of millions of people around the world are expected to watch the royal wedding of Britain's Prince William and Kate Middleton on television.
More than 8,000 journalists have descended on London to jockey for positions outside London's Westminster Abbey for Friday's ceremony.
Crowds are camped outside the abbey for a prime view of the wedding party.
Dozens of foreign dignitaries are to attend but the invitation for the Syrian ambassador has been withdrawn.
The facade of Buckingham Palace, where the wedding reception is to take place, will remain lit up later than usual at the request of US broadcasters, so they can report to evening audiences with the illuminated palace in the background.
Some estimates put the global TV audience as high as two billion. This would top the 750 million people estimated to have watched the most popular event ever broadcast - the 1981 wedding of William's parents, Charles, Prince of Wales and Lady Diana Spencer.
Britain's PA news agency reports that 4,500 staff from 100 foreign outlets will be carrying Friday's events live.
CNN has sent 50 people to London to cover the wedding. Brazilian channel Record has sent a team of 12 while Japan's Asahi has a crew of 20 in London, for example.
The main US networks have sent their star anchors, who will be accompanied by British TV celebrities such as Cat Deeley and Sharon Osbourne to provide local knowledge.
For weeks, the networks have been crowding their schedules with royal wedding-related programming.
The fact that the 1000 GMT wedding will begin in the early morning hours in the US has not deterred network chiefs.
"I'm confident people will be watching. It will be a major global event," said Marc Burstein, executive producer for ABC News Special Events.
CNN said it was "focused heavily on our digital applications so Americans can watch it when they wake up", the Britain's Guardian newspaper said.
The marriage momentum has been maintained online - according to market research firm Nielsen, US websites have run twice as many royal wedding stories as UK sites.
Interest has also run high in the former British dominions of Canada, Australia and New Zealand, where TV channels and websites are planning live coverage of the wedding.
But in India, Britain's largest former dominion, coverage has focused on whether Bollywood dancer-choreographer Sandip Soparrkar made up his invitation to the wedding.
In Germany, some cities are setting up large screens in public places for crowds to watch the wedding. Hotels will screen the events on TVs in their lobbies.
Writing in the New Internationalist blog, commentator Stefan Simanowitz says interest in the Arab world has been moderate but is expected to grow because a large number of Middle Eastern rulers are on the guest list.
Some 50 foreign heads of state are among the 1,900 invited guests attending the wedding.
However Bahraini Crown Prince Salman bin Hamad Al Khalifa turned down his invitation, saying he did not want the unrest in the Gulf kingdom to spoil the celebration.
The invitation for Syrian ambassador Dr Sami Khiyami was withdrawn amid condemnation of a crackdown on pro-democracy protesters in the country.
The Foreign Office said his presence would be "unacceptable" and that Buckingham Palace "shared that view".
The ambassador for Libya - where the UK is involved in Nato strikes against Col Muammar Gaddafi's armed forces as they fight a rebellion - was officially invited but is not expected to attend, the Foreign Office said.
Joke or venerable tradition?
While Britons get to enjoy an extra Bank Holiday and many streets are lined with flags and bunting, some have poured cold water on the build-up.
Der Spiegel's London correspondent Marco Evers called the wedding "a hopelessly overhyped celebration of an absurdly undemocratic system".
An Ipsos Mori poll conducted for Reuters news agency indicated 47% of Britons were either not very or not at all interested in the wedding.
The 23% of those questioned who said they would definitely not watch the royal wedding just pipped the 22% who said they definitely would.
Many, in Britain and elsewhere, will be watching merely for a look at the pomp and pageantry or to say they saw a moment of history.
But for some of those who will be glued to their TV screens as the couple exchange vows, the Wall Street Journal's Bret Stephens best summed up the appeal: "Royalty is the most venerable embodiment of British tradition, tradition is the lifeblood of identity, identity generates social cohesion without resort to force, and social cohesion is the sine qua non of a viable polity."