French row over mass arrest of Tunisian migrants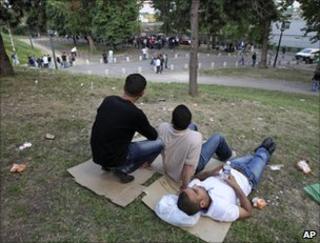 Paris Mayor Bertrand Delanoe has urged an end to the "shocking" arrest of dozens of mainly Tunisian migrants in France as detentions continue.
Sixty suspected illegal migrants were rounded up in the French capital on Wednesday and 15 have been detained in the southern city of Marseille.
Hundreds of young Tunisian men are sleeping rough in parks around Paris.
Most reached France via Italy, where thousands have arrived by boat this year amid unrest in the Arab world.
French President Nicolas Sarkozy and Italian Prime Minister Silvio Berlusconi have called for a revision of the Schengen treaty, which allows people to move between many European countries without border checks.
France is seen as a likely destination for migrants from Tunisia because many of them speak the French language.
The French government was angered by Italy's decision to grant visas to thousands of migrants, allowing them to travel across the Schengen zone.
'Undignified' arrests
Police in Marseille arrested 15 Tunisian migrants who had mostly arrived from Italy and were staying in a square near the central railway station, police and human rights activists told AFP news agency.
They were picked up between 2100 (1900 GMT) and midnight on Wednesday as local aid workers were trying to find them a bed for the night.
Bernard Eynaud, of the Federation for Human Rights, said riot police and frontier police had moved in to check the migrants' residence permits.
He said the arrests seemed "very hard" just when the local authorities had announced that migrants would be housed in a school.
Between 100 and 200 migrants have been staying in the square for several days.
In Paris, Mayor Delanoe, a member of the opposition Socialist Party, said the state should stop its "undignified" police operations and set in motion "solutions more in keeping with international law and respect for human dignity".
However, a fellow Socialist and potential presidential candidate, Manuel Valls, said that while the migrants were living in difficult conditions, he was "not shocked by the fact that illegal migrants [were] escorted back to the frontier".
French 'nightmare'
The Tunisians living in a Paris park have been living on hand-outs and food provided by charities or by the local Tunisian community, the BBC's David Chazan reports.
They told him the dream of a better life which had brought them to France was turning into a nightmare but they were still determined to stay.
"I like to stay here in France but now I have problem for the police... maybe I go to Holland or maybe London, I don't know where," one said.
"We want a job... There is no job in Tunisia, there is nothing."
Many of the migrants said they had been rounded up by police in the past few weeks and held for a night or two.
Our correspondent notes that many of the migrants do not speak good French and few have qualifications.