John Paul II beatification: Politics of saint-making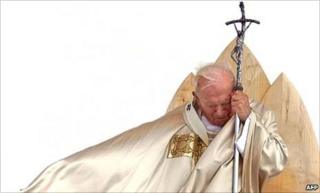 John Paul II's beatification is the quickest of modern times - what does it take to be fast-tracked to sainthood?
Catholics may believe there is something supernatural about their Church, but as the 13th Century theologian St Thomas Aquinas taught, it is not exempt from the normal realities of human nature - including the laws of psychology, sociology, and even politics.
If that is true of the Church writ large, it is also true of the business of declaring saints. That fact was on clear display on 1 May, when Pope John Paul II was beatified, the final step before sainthood, in a ceremony in Rome that drew hundreds of thousands of people to St Peter's Square.
John Paul's beatification comes just six years and one month after his death in 2005. The perception of haste has puzzled some observers, especially those inclined to question the late pope's record on combating the scourge of clerical sexual abuse.
Formally speaking, the Vatican's explanation is that all the traditional criteria have been met. There is a popular grassroots conviction that John Paul was a holy man - an exhaustive four-volume Vatican study concluded that he lived a life of "heroic virtue" - and a miracle has been documented as resulting from his intervention.
The miracle involves the healing of a 49-year-old French nun from Parkinson's disease, the same affliction from which the late pope suffered.
Five fast-track factors
Without questioning any of that, it is probably fair to say that institutional dynamics and even a degree of politics also help explain the rapid result.
John Paul reformed the sainthood process in 1983, making it faster, simpler, and cheaper. The office of "Devil's advocate" - an official whose job was to try to knock down the case for sainthood - was eliminated, and the required number of miracles was dropped.
The idea was to lift up contemporary role models of holiness in order to convince a jaded secular world that sanctity is alive in the here and now. The results are well known: John Paul II beatified and canonised more people than all previous popes combined.
Since the reforms took effect, at least 20 cases qualify as "fast track" beatifications, meaning the candidate was beatified within 30 years of death. Taking a careful look at that list, aside from lives of holiness and miracle reports, at least five factors appear to influence who makes the cut.
First, successful candidates have an organisation behind them with both the resources and the political savvy to move the ball. The Catholic movement Opus Dei (of Da Vinci Code fame), for instance, boasts a roster of skilled canon lawyers, and they invested significant resources in their founder's cause. St Josemaria Escriva was canonised in 2002.
Second, several fast-track cases involve a "first", usually to recognise either a geographical region or an under-represented constituency. Italian lay woman Maria Corsini was beatified in 2001, just 35 years after her death, along with her husband Luigi Beltrame Quattrocchi. They were the first married couple to be declared "blessed". Nicaraguan Sr Maria Romero Meneses was beatified in 2002, 25 years after her death, as the first blessed from Central America.
It is also striking that 12 of these fact-track beatifications have been women. That is arguably related to an effort to counter perceptions that the Church is hostile to women.
Third, there is sometimes a political or cultural issue attached to the cause. For instance, Italian lay woman Gianna Beretta Molla was beatified in 1994, 32 years after she died in 1962. (Molla was canonised in 2004). She is famous for having refused both an abortion and a hysterectomy in order to save her unborn child.
In other cases, the perceived issue is internal to the Church. Maria de la Purisima, a Spanish nun, was beatified in 2010, just 12 years after her death in 1998. Vatican officials hailed her as a model of preserving tradition in a period of "ideological turmoil" following the Second Vatican Council (1962-65).
Push to canonise papacy
Fourth, Church officials may feel a personal investment in a cause. For instance, two Polish priests moved through the process swiftly under John Paul II: Michal Sopocko, the confessor of St Faustina Kowalska, a mystic and founder of the Divine Mercy devotion, and Jerzy Popieluszko, a Solidarity leader murdered by the Polish Communists.
Fifth, fast-track cases generally enjoy overwhelming hierarchical support, both from the bishops of the region and in Rome. Chiara Badano, a lay member of the Focolare movement, was beatified just 20 years after her death in 1990. Focolare is admired for its spirituality of unity and its ecumenical and inter-faith efforts, not to mention its loyalty to the Church.
All five criteria are clearly in place with John Paul II. He has got powerful institutional backing both in Poland and in Rome, and virtually all of the officials making sainthood decisions today are John Paul II proteges. There is also a push to canonise not just John Paul the person, but also his papacy, especially its emphasis on recovering Catholicism's missionary muscle.
Those criteria suggest that it won't be terribly long before the canonisation arrives, and St John Paul II is formally added to the Church's list.
If so, both nature and the supernatural will, again, have had their say.
John L Allen Jr is senior correspondent for the National Catholic Reporter and author of The Future Church: How Ten Trends are Revolutionizing the Catholic Church (Doubleday, 2009).