Hungary Roma battle far-right vigilantes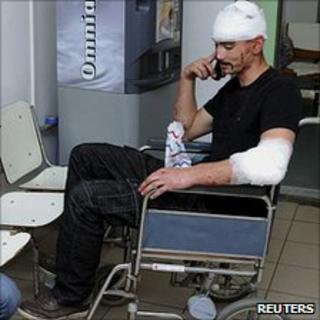 Far-right vigilantes have clashed with Roma (Gypsies) in a village in north-east Hungary where ethnic tensions escalated last week.
At least four people were hurt in the brawl in Gyongyospata, in which dozens were involved, police say.
Hungarian media report that fighting erupted after Vedero ("Defensive Strength") uniformed paramilitaries hurled stones at a Roma house.
Far right groups have staged "public order" patrols in Roma areas recently.
The groups allege that such patrols are necessary to crack down on crime.
Police reinforcements have gone to Gyongyospata since the clash on Tuesday night, the Magyar Hirlap news website says.
Last week Hungary's government accused political opponents of staging an unnecessary "evacuation" of Roma families from the village, 81km (50 miles) from Budapest.
A total of 277 Roma were taken from the village by bus by the Hungarian Red Cross last Friday. They have now returned to their homes.
Media reports described it as an evacuation of Roma women and children frightened by Vedero's activities. But a Red Cross spokesman denied any connection, saying it was a pre-planned holiday.
Vedero announced it would set up a paramilitary training camp in the Roma part of Gyongyospata, which has about 2,800 inhabitants in total. However, the police prevented Vedero from doing so.
The government has passed new legislation aimed at preventing paramilitary or other uniformed groups from acting like self-appointed police.