Russian police free software tycoon Kaspersky's son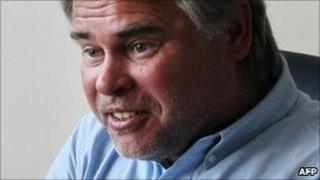 Police in Russia have freed the son of software entrepreneur Yevgeny Kaspersky unharmed, ending one of Moscow's most high-profile kidnappings in years.
Five people including the suspected ringleader, a former convict, were arrested during the operation in the Moscow region, police said.
Russian media say officers posing as middlemen lured the kidnappers to a meeting with the promise of a ransom.
Mr Kaspersky's company is a leading developer of anti-virus software.
The kidnappers were reportedly demanding 3m euros (£2.6m; $4.3m) for his son Ivan's safe return.
Sunday's statement on the successful police operation was the first official comment on his abduction, though FSB secret service police were said earlier to be working with regular colleagues on the case.
Reports said last week that the mathematics student had been snatched on Tuesday while on his way to his work experience job as a programmer in the Russian capital.
Kaspersky Lab is regarded outside Russia as one of the country's few business success stories not related to the energy sector.
The US business magazine Fast Company recently ranked it among the Top 50 Most Innovative Companies worldwide.