Vienna to honour Austria's Nazi army deserters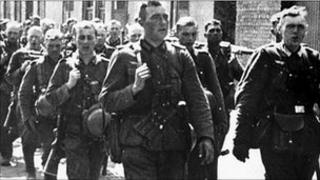 The Austrian capital Vienna has announced plans to erect a memorial in honour of soldiers who deserted from Adolf Hitler's army, the Wehrmacht.
The city council has yet to decide the exact location, but campaigners want it to be put in Heldenplatz (Heroes Square) alongside war memorials.
The square is also where Hitler, born in Austria, addressed crowds in 1938 when Austria was annexed to Germany.
The BBC's Bethany Bell says Austria is gradually confronting its Nazi past.
Two years ago Austria's parliament agreed to rehabilitate soldiers criminalised by the Nazis for deserting from the Wehrmacht.
The decision to erect a memorial was endorsed by the socialist and green parties which form Vienna's municipal government coalition.
Vienna Green Party leader David Ellensohn said the monument could be modelled on other memorials to Wehrmacht deserters in some German cities.
'Long overdue'
Analyst and campaigner Thomas Geldmacher told the BBC that the memorial was long overdue.
"For a very long time deserters have been completely neglected in Austrian society," he said.
"In large parts of the Austrian population deserters are still considered cowards, traitors, even comrade-killers. A monument - and especially the public debate around the erection of the monument - could somehow change that."
Mr Geldmacher said an estimated 15,000 to 20,000 Austrians deserted from the Wehrmacht, especially in the final days of World War II.
Since the 1980s Austria has taken a series of steps acknowledging the role its citizens played in Nazi atrocities.