'Al-Qaeda envoy' Moganned killed in Chechnya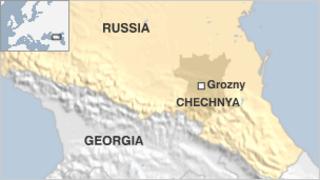 Russia has said that its forces have killed a senior Saudi-born al-Qaeda figure in the North Caucasus region.
Haled Yusef Muhammad al Emirat, described as al-Qaeda's chief envoy in the region, died with another rebel in a clash with troops in Chechnya.
Chechnya's president said the rebel, nicknamed Moganned, trained and funded insurgents, and planned acts of terror.
Russia is fighting against a low-level Islamist insurgency in several republics in the North Caucasus.
Russia's National Anti-Terrorist Committee said in a statement that Moganned was killed along with another militant in a raid on Thursday near the village of Serzhen-Yurt, in Chechnya's southern mountains.
It said that the militant has been operating in the North Caucasus since 1999 and that by 2005 he had emerged as the top liaison official with al-Qaeda, helping raise foreign funds, particularly from the Arabian Peninsula.
"Almost all acts of terror using suicide bombers in the last years were prepared with his involvement," a spokesman for the National Anti-Terror Committee said in a televised statement, according to AFP news agency.
The pro-rebel website kavkazcenter.com confirmed Moganned was killed on Thursday in a clash with security forces in Chechnya.
It said that at least two other militants had died in the attack.