France: Nantes 'shot' family's car found on Riviera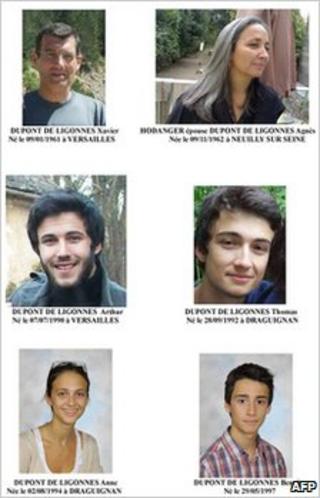 Police in France have discovered a car belonging to a man suspected of killing his wife and four children.
Five bodies have been found buried at the family home in the western city of Nantes but the car was discovered miles away along the Riviera.
The family went missing earlier this month. Parents Xavier and Agnes Dupont de Ligonnes had said the family was moving to Australia.
Autopsies on the bodies, found under a patio, were to take place on Friday.
Nantes prosecutor Xavier Ronsin said late on Thursday that the five had probably died of gunshot wounds.
Police said the car had been found in a hotel car park in the town of Roquebrune-sur-Argens, in southeastern France, after bank withdrawals showed Mr Dupont was in the area.
'Rambling messages'
Police found the missing car, a metallic blue Citroen C5, outside a hotel where he is now thought to have stayed on 14 April.
Businessman Xavier Dupont and his wife Agnes Dupont de Ligonnes, 49, and their four children - Arthur, 21, Tomas, 18, Anne, 16 and 13-year-old Benoit - disappeared on 3 or 4 April 2011.
Before the disappearance, the family left "rambling and contradictory" messages, saying they were taking their two younger children out of school because they were emigrating to Australia.
The father had also contacted people explaining that he was a secret agent who was leaving as part of a witness protection programme.
No trace of a struggle or violence has been found at the house, where the wardrobes had been emptied. There was also a note taped to the letter box at the house reading: "Return all mail to sender."
According to AFP news agency, Mr Dupont bought hessian sacks and cement before his disappearance.
Local people described the family as quiet and respectable middle-class Catholics with no history of odd or criminal behaviour.
The couple were originally from the wealthy Paris suburb of Versailles but had moved to a townhouse on a central boulevard in Nantes.
He sold advertising space while she volunteered for church activities and taught the Catholic catechism to school children.
The younger children were attending a private high school.
The headmaster said that after being informed that the family were leaving for Australia, he had received a cheque covering the fees for the entire remainder of the school year.