Spanish atheist march banned in Easter Week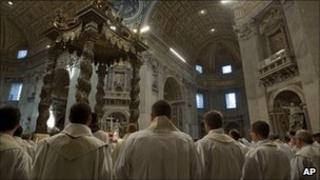 A Spanish court has banned an atheists' group from marching through the capital Madrid as the city's Catholics celebrate Easter Week.
The Madrid superior court of justice upheld a ban imposed last week by the Madrid region authorities, who had argued the march could provoke clashes.
One of the march's organisers said the ban showed there was no separation of Church and state in Spain.
The march would have coincided with Maundy Thursday religious processions.
Imposing the original ban, the Madrid region interior ministry noted the route of the proposed march through the capital's Lavapies district would pass by several Catholic churches.
It argued that clashes might break out with conservative Catholics.
Another reason given for banning the march was the appearance of lewd promotional posters for the event that bore slogans such as the "fraternity of saint paedophilia", the Spanish newspaper El Pais reports.
However, organisers of the march repeatedly disassociated themselves from the posters.
Luis Vega, president of the Madrileno Association of Atheists and Freethinkers, called the ban "worrying" and "a step back to the beginning of the transition [to democracy from the Franco years] for the country".