Silvio Berlusconi 'Ruby' sex trial opens then adjourns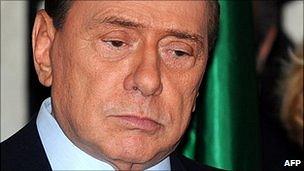 The trial of Italian Prime Minister Silvio Berlusconi on charges of paying for sex with an under-age prostitute has opened in Milan.
Neither Mr Berlusconi nor the alleged prostitute, Karima El Mahroug, were in court, and the hearing was adjourned after only a few minutes, until 31 May.
Mr Berlusconi is also accused of abuse of office by intervening to have Ms Mahroug released from police custody.
He denies any wrongdoing and says the charges are politically motivated.
Mr Berlusconi faces up to 15 years in jail if found guilty.
More than 100 journalists from Italy and around the world crammed into the courtroom for the infamous "Ruby" case - so-called because of Ms Mahroug's stage name, Ruby Heartstealer.
However, most observers expect a long trial with frequent delays and legal challenges at every stage.
The day before the trial, Italian MPs voted to ask the Constitutional Court to decide whether the Milan court should be hearing the case at all.
The case could be referred instead to a special court for ministers - which would need the permission of the lower house of parliament to proceed.
The constitutional court could take months to issue a ruling, and the Milan court is expected to press on in the meantime.
Over the weeks and months ahead, 20,000 pages of evidence will be presented and about 40 women will be called as witnesses.
Mr Berlusconi denies having sex last year with teenaged nightclub dancer Ms Mahroug.
She also denies having sex with Mr Berlusconi, or being a prostitute.
Prosecutors allege that the Italian leader paid for sex with Ruby while she was still 17, an offence under Italian law. They maintain that the prime minister had sex with her on 13 occasions.
Correspondents say wire-tap evidence will be presented which is expected to reveal how women were procured for parties at Mr Berlusconi's villa.
The list of 78 witnesses named by Mr Berlusconi includes Real Madrid footballer Cristiano Ronaldo, Hollywood star George Clooney and his girlfriend, and the Italian model and TV star Elisabetta Canalis.
All are said to have been guests at one of Mr Berlusconi's parties.
The prime minister is also accused of phoning a police station where Ms Mahroug was being held for alleged theft, and arranging her release. He has said he was told that she was a relative of Egypt's then-president Hosni Mubarak, and he wanted to avoid a diplomatic incident.
Mr Berlusconi is currently a defendant in four different trials. He recently appeared in court in Milan on corruption charges, which he also denies.