Ratko Mladic's wife Bosiljka tried on firearms charges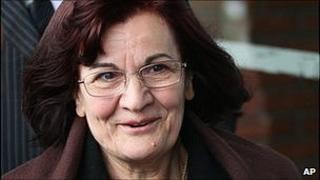 The wife of Europe's most wanted war crimes fugitive, Bosnian Serb General Ratko Mladic, has gone on trial accused of illegal possession of weapons.
Bosiljka Mladic told the court in Belgrade she believed her husband was no longer alive.
"If he is alive, he would have found ways to call us," she said.
Gen Mladic has been on the run from the UN's War Crimes Tribunal since 1995 and faces genocide charges in connection with the 1992-95 Bosnia war.
It has been claimed that he is in Serbia, being protected by former comrades. The Serbian government denies that.
'Brain haemorrhages'
Bosiljka Mladic told the court that an automatic rifle and several handguns found in their Belgrade house during a police search in 2008 belonged to her husband.
She said he had forbidden her and their two children to "come near the cupboard" where the arms were stored.
"Nothing was touched and it was full of dust," she said.
Mrs Mladic said her husband had left the home in 2001 when his ally, the former Serbian President Slobodan Milosevic, was arrested and extradited to the United Nations war crimes tribunal in The Hague.
She said he had suffered brain haemorrhages on three occasions, and could not survive without medical help.
His family have been applying to have him officially declared dead, without success.