How air crash investigations may be thrown off course
By Emma Jane Kirby
BBC News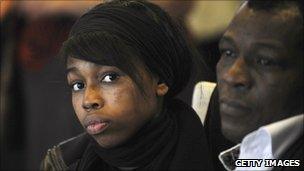 Do air crash investigations always aim to discover the truth, or do political pressures sometimes stop us learning lessons that would improve passenger safety?
In an insipid Indian restaurant in the outskirts of Paris, Kassim Bakari tells me the brutal story of the worst day of his life.
On 30 June 2009, a Yemenia Airways flight, en route to his homeland of the Comoros islands, nosedived out of the sky and crashed into the Indian Ocean.
There were 153 passengers on board including his wife and teenage daughter, Bahia.
Everybody bar one was killed. Nine hours after the crash, 13-year-old Bahia, bruised and burnt, was found alive, clinging to a piece of fuselage.
"It was a total nightmare. I lost my children's mother," he said.
"Yet at the same time I had this joy that it was my daughter who was the sole passenger to survive.
"When I saw Bahia in hospital… I saw this little girl who just looked at her father and who said nothing.
"After everything she'd suffered, she could tell me absolutely nothing about what she'd gone through."
Twenty months on, little is still known about the crash.
A preliminary report published recently is full of accusations and contradictions. There have been angry demonstrations by Comorian families demanding to know the truth.
Under the International Civil Aviation Organisation (ICAO) rules, it generally falls to the country where the plane crash happened to lead the investigation.
However, investigating a major air disaster requires a wealth of technical expertise, and for a tiny country like the Comoros Islands, the demands can be overwhelming.
When I wrote to the Comorian civil aviation authority, my e-mail came back marked "mailbox full".
But it is not just a lack of resources preventing Bahia and her father from knowing the truth - they also seem to be caught up in a political row.
Prior to the crash, questions had already been raised about the carrier's safety practices. The French transport minister had called the Yemenia fleet "flying dustbins", prompting fury from his Yemeni counterpart.
A month after the crash, the black boxes from the aircraft were recovered. Analysis by the French aviation investigation bureau and investigators from the US led them to conclude that pilot error had caused the accident. But Yemen and its airline rejected the findings and have demanded a third reading in Egypt.
David Gleave, an independent British investigator, fears politics often get in the way of air accident investigations.
"I would say most investigators are very interested in what the truth is, but then the politics comes into it," he said.
"It's not unknown to have the lead investigator replaced if the answer is not going in the correct direction that the minister may wish the investigation to go in.
"If the minister of transport is also the minister representing the airline, he may wish to say, 'Well I would lose public confidence if it was a pilot error, if it was a missile attack then we can blame it on somebody else,' and so you maintain confidence in the airline at that point."
I understand the lead Comorian investigator, who sided with the French findings, has now been replaced.
'Political sensitivities'
It is not just investigators who acknowledge politics can sometimes get in the way of investigations.
"Political interference is a disaster," says EU Transport Commissioner Siim Kallas.
"Air accident investigations must be a dry, technical investigation and there should be no political interference and no - how can I say? - little adjustment of small details which have political sensitivities."
I asked him if he thought political tampering with crash reports could cloud the truth about accidents.
He was emphatic in his answer: "Obviously it can happen, yes."
The black boxes were recovered but, as she saw for herself when she visited the crash site, the plane fuselage was simply left to rot in the swamp and was looted by locals.
"There was no security at all [at the crash site] apart from these soldiers, but they didn't know we were family," she said.
"Anyone could have gone in there and taken anything. I did see one man walking off with a piece of plane."
Doug Herlihy, one of the independent crash investigators at the Cameroon site, says vital evidence was lost because key parts of the plane were pillaged.
"One can't put every piece back together… but if one was in charge in more of an objective role they would have put critical parts back together, they would investigate critical parts that led to that loss of control in flight," he said.
The investigation report, when it emerged three years later, blamed pilot error.
In fact today, "human error" is the principal cause of most air accidents.
But with the pilots dead and unable to answer back, former British Airways pilot Terry Tozer, who is currently writing a book on flight safety, believes it is a rather over-used conclusion.
"To say just 'pilot error' is a huge simplicity and very convenient if you'd rather no-one looked any more widely into the issue," he said.
"It's not very convenient for an airline management to confront the fact that their pilots might have had very little training, or might have been worked to the point of exhaustion, or they might have put a crew together where both crew members had very limited experience on that type of aircraft."
The EU has promised to continue pushing for greater transparency, while the ICAO insists it is monitoring member states more closely.
But Kassim Bakari is becoming cynical about ever finding out what really happened.
Is he right? With so many political pressures being placed on investigations, do they ever really give us the truth about why a plane crashes?
I put the question to Doug Herlihy, who offered this chilling response:
"Likely we do in some… but in many of the high-profile accidents we certainly don't find out."
Related Internet Links
The BBC is not responsible for the content of external sites.