Switzerland: 'Gigantic' avalanche kills three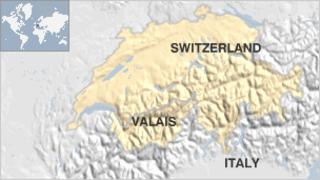 Three ski hikers have died in a massive avalanche in the southern Swiss Alps - the second in a week.
Six others escaped, three with injuries, when the avalanche struck in the Val d'Anniviers, above Ayer in Valais, close to the border with Italy.
Valais canton police spokesman Jean-Marie Bornet described the avalanche as "gigantic".
The incident happened close to where five French nationals were killed in an avalanche last weekend.
They were part of an 11-strong group on a high-altitude tour in the Valais close to the Great St Bernard Pass.
The group involved in Friday's tragedy were from Friedrichshafen in southern Germany, and had been hiking far from any pistes.
"It was a gigantic avalanche, some 500m by 500m. Rescuers arrived quickly but unfortunately two people died at the scene and a third died in hospital," he said.
The avalanche risk in the region has increased as warm temperatures begin to melt the snow.