Chinese 'euro coin scam' leads to arrests in Germany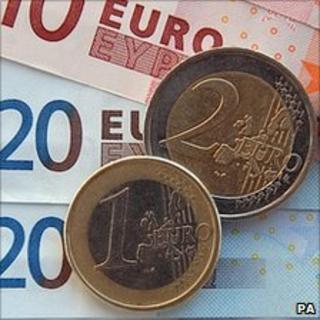 Police in Germany have arrested six people - four of them ethnic Chinese - suspected of cashing in invalid euro coins worth about 6m euros (£5.3m).
Broken coins are believed to have been sold to buyers in China as scrap metal, then welded back together, flown back to Germany and exchanged for banknotes at the Bundesbank - the central bank.
The Bundesbank exchanges damaged euro coins for banknotes at face value.
Police carried out raids in Frankfurt and three other central German towns.
A statement from the Hessen state prosecutor's office on Thursday said Bundesbank employees were not under suspicion.
Exchange scam
The suspects are those who allegedly handed in the bags of damaged one- and two-euro coins at the Bundesbank, receiving their face value in return.
Some genuine coins were reportedly mixed in with the forgeries, in order to pass the bank's visual controls.
The statement said the Bundesbank is the only bank in Europe that reimburses damaged euro coins at face value.
The damaged coins have to be handed in using "safebags" that can be bought on the internet. Each bag is designed to hold 1,000 euros' worth of coins.
The indictment says the suspects were helped by four flight attendants who managed to bring forged coins into Germany because they were not subject to baggage weight restrictions.
The elaborate operation, involving 29 tonnes of coins, allegedly took place from 2007 to November 2010.
The raids in Frankfurt, Offenbach, Fulda and Moerfelden-Walldorf resulted in the seizure of some three tonnes of broken coins, a coin-welding machine and computers.